Last year I posted several articles about hard-boiled eggs. They were some of my most popular posts of all time. Apparently, you people are all about the incredible edible egg! And why not! Eggs are awesome. In honor of the amazing egg, here is a round-up of my best hard-boiled egg posts, as well as some newbies.
Check out this picture sent in by my sister-in-law, Karen, one of my most faithful readers from Wisconsin. It shows the difference between their old method of boiling and peeling eggs and the new method they learned right here at The Simple Homemaker. Now that's a gorgeous egg!
Do you want gorgeous eggs? Easy as pie! Easier, really. Just follow these directions:
How to Boil a Perfect Hard-Boiled Egg
And if you need simple ideas for what to do with all those hard-boiled eggs, here are a few simple recipes from The Simple Homemaker:
Deviled Eggs and Stuffed Egg Chicks
10 Ways to Use Leftover Hard-Boiled Eggs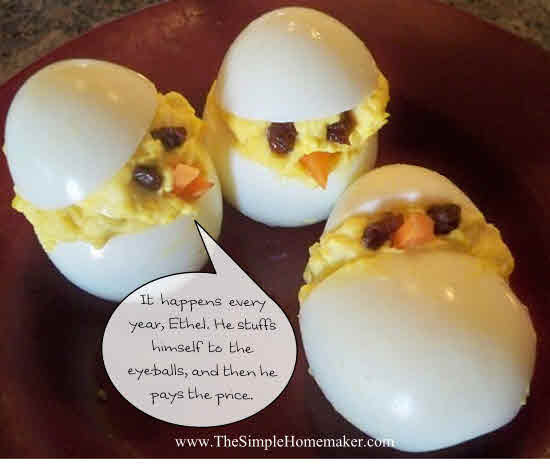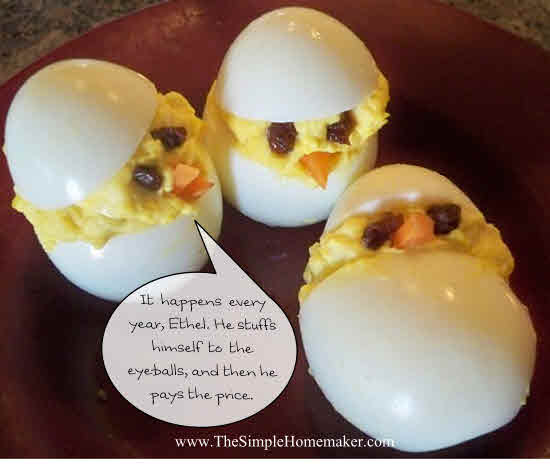 And here are some ideas sent in by some of my blogging friends (and my blogging daughter) from around the globe:
Stacy Makes Cents' Mama's Egg Salad – See what a splash of vinegar can do!
Raising the Barrs' A Salad A Day – Hard-boiled eggs are just one of the ways she spruces up salads.
The Nourishing Home's Avocado Egg Salad – Really? Yes, really! It looks fabulous!
Horse Crazy Bookworm's Totally Brilliant Easter Recipes – Technically, not all of these use hard-boiled eggs, but they're shaped like eggs, and they're chocolate, so…close enough. (Just go with it.)
For more ideas, I created a Pinterest board entitled Using Up Hard-Boiled Eggs. It's about using up hard-boiled eggs. Appropriately named, don't you think? Check it out for more ideas.
Using Up Hard-Boiled Eggs on Pinterest
I hope this egg post is eggsactly what you were looking for.
Grooooaaaaaaannnnnn!
Feel free to link up any of your recipes for leftover hard-boiled eggs in the comments! 
Special thanks to Karen for sending in the results of her egg experiment!