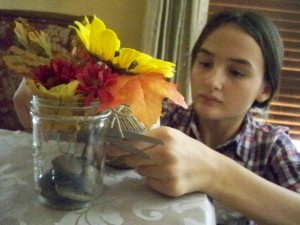 The Simple Homemaker is here to help homemakers realize how important and beautiful your role is.  It also exists to help make homemaking as simple and joyful as possible.
When I say simple, I do not mean living without running water and electricity.  Also, while, I will let you know about products I find helpful, I will never imply that you need to "bust the budget" to stock your kitchen with expensive labor saving devices…although if I find a self-cleaning refrigerator, you bet I'm sharing that one!
By simple I mean clearing your life queue of stress, expectations, over-commitment, and the lies we homemakers believe that make our job so much more difficult than it needs to be. I also mean using what you have at your place in life to make your job more manageable and your life more enjoyable.
I want to help you and me both regain the joy of taking care of our homes, the beauty of tending our husbands, the fun of raising our children. Because it is joyful, beautiful, and fun. Trust me.
What will you find here?
Clearing Your Queue: Get rid of the mental and physical excesses in life that keep you from truly living and rob you of joy and time. I'm on this ride myself, so I'll be undertaking this challenge with you.
Simple Parenting: Ideas for creating strong bonds with your children as well as handling some of those issues parenting throws in your face.  If you are a homeschooler (and really, what parent isn't?), there will be goodies in here for you as well.
Simple Marriage: Establishing a strong family foundation by strengthening your marriage.  Some fun, some serious, all helpful.
Simple Homemaking: Keep a beautiful, peaceful home with grace, efficiency, realistic frugality, and of course, June Cleaver pearls and a smile on your face! Okay, the pearls are optional.
Simple Kitchen: Recipes, anecdotes, and healthy baby steps for efficient, simple, and joyful cooking for your family.  Plus, you will still have time to sleep at night!
Reviews and Giveaways: Products and books that fit in with The Simple Homemaker philosophy, as well as some treasures to give away.
How can I follow The Simple Homemaker?
If you are interested in following the blog daily, subscribe to the newsletter and you will be notified when new posts are posted.  The newsletter subscription form is below and to the right.  We will have the occasional subscriber-only content or giveaway to thank you for your loyalty.
Each new post is announced on Facebook and Twitter as well, so subscribe, friend, follow, like, insert your social term here!
If there is anything else you would like to see here at The Simple Homemaker, please let me know.
In the meantime, kiss your husband, smile at your children and keep your home with joy!