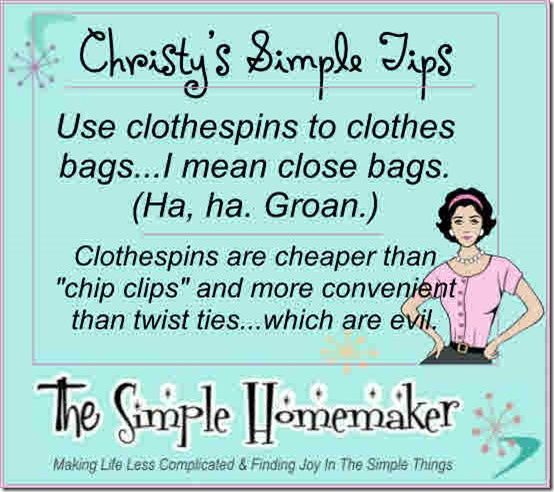 Instead of bulky, cumbersome chip clips or annoying little twist ties which were created only to aggravate parents of hungry children at lunch time, use clothespins to close bags in your kitchen. Simply fold down or twist the bag and attach a clothespin or two.
If the item belongs to one person in particular, use a permanent marker to write a name on the clothespin.
If you want to get really fancy (which is kinda the opposite of simple, but this is a great idea, so I'm going with it), paint the flat surface of the clothespin with chalkboard paint so you can write on it with chalk. Chalk is fun. Clothespins are fun. This is a win-win.
You could also spruce up your supply a bit by covering your entire house table with newspaper, setting out paints and markers, and letting your kids get in touch with their inner Monet and Picasso on your clothespins.
Snag a bag of 50 to 100 clothespins at most discount stores, department stores, or drugstores for only a buck or two. Some are better quality than others, but the cheapies are just fine for this purpose…even if they're not sturdy enough for the job for which they were originally created.
I keep a small bin of clothespins in my "baggie" drawer where they don't take up too much space.
Contact me if you would like your simple tip featured on Christy's Simple Tips.