This is a big long list of affordable gift ideas. That's it–nothing fancy. Most of these gifts are under $10, and many are homemade. As more ideas pop into my busy brain, I'll add them to the top of this list, so pin it or bookmark it and check back often. Please share your favorite ideas in the comments below, and I'll add them to this list to keep it growing.
If I don't tell you that some of these links are affiliate links, I could spend the next few Christmases in the big house. I don't wanna go there, because of the food, so consider yourself alerted.
For more ideas, check out my Simple Gift Ideas board on Pinterest and my friend Stacy Makes Cents' gift series on Facebook.
Enough chatter. Grab a cookie and let's get this party started!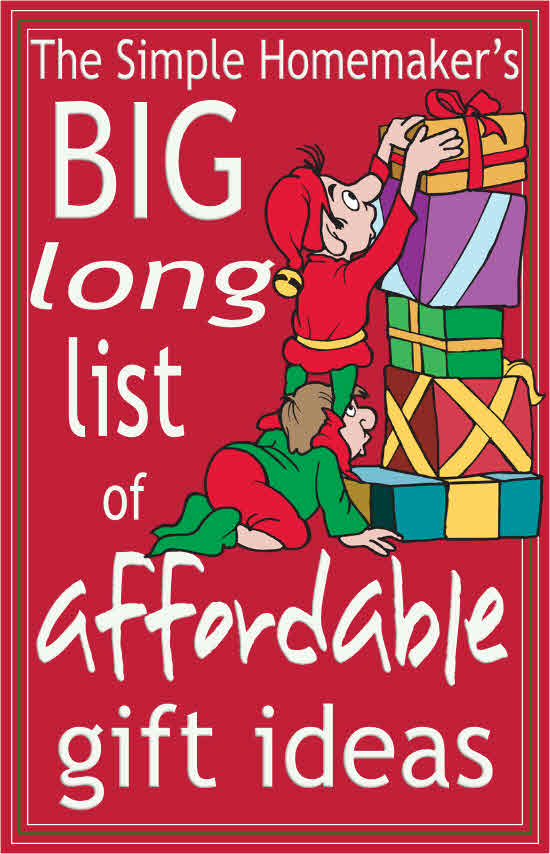 A "School in Progress – We can play later." Sign to hang on a homeschooler's front door.
Picnic-of-the-month club–pick a day each month to picnic (indoors or out) with the recipient. Kids and (some) grandparents love this.
Christmas ornaments–homemade or otherwise.
Business cards–great for a budding entrepreneur and sometimes free for the cost of shipping.
A cookbook from a favorite cooking show. My husband likes America's Test Kitchen, and they have a Cooking School cookbook, which I'm sure he would love me to have.  To make it cheaper, watch for cooking magazine subscription sales instead.
A "My husband rocks" T-shirt…or "My wife rocks" or "My dad rocks" or "My mom rocks" or a similar family boosting apparel item from Union 28…or make your own. Check the clearance section for cheaper options, or watch for sales.
General household supplies gift basket, such as homemade cleaners and hand-knit washcloths. Store-bought is great, too. Include coupons for freebies.
A supplies gift basket for a certain part of the house, such as the kitchen sink. Fill that one with dish soap, a hand-crocheted washcloth, a scrubby, dishwasher powder, a towel, and some homemade cleaner (as simple and affordable as diluted vinegar in a spray bottle).
Laundry supplies, such as quarters for the laundromat, detergent, a stain bar, dryer balls, soap nuts, whatever fits that person's laundry style.
A big ol' basket of free samples, such as lotions, mini-coffees, teas, supplements…whatever the freebie sites offer.
Free baby samples, including coupons. Sorry, you have to supply your own baby. 🙁
A baby gift basket, containing diapers, homemade or store-bought washes, a picture of your family, and, again, no baby.
A "free" nursing pillow, nursing cover-up, carseat cover, or baby-wearing sling. Use code SIMPLE2 for a savings of anywhere from $35 to $50. (You pay shipping.)
52 postcards addressed and stamped–you keep the postcards yourself and send one a week to the gift recipient.
Cookies.
Stationery, stamps, and a pen.
Materials for a project to work on together, and then a schedules of dates when you will get together to work on it. This can be one project total or one project per month.
Gift certificates for your time and help–put them in 12 separate envelopes to be opened one per month. This could include washing the car, spring cleaning, cooking a dinner, or lawn care, garden prep, winterizing the home, anything your recipient has trouble accomplishing.
Coupon for cleaning house, either by you or by a professional.
Car wash coupons.
A food item you are known for, such as cookies, pie, or an ethnic food that represents your heritage.
Gift certificates to help with the cost of living, such as hair cuts or groceries.
Pay a bill that month, such as electric or trash pick-up.
Take the recipients car in for an oil change and a wash, and fill it up with gas while you're out.
Gas card.
Seeds or plant starts from your garden.
Homemade pillow case.
Herbal sleep pillow. There are simpler patterns–I know, because we made one–but I can't find them.
Coupon for shoveling their driveway all winter.
Coupon for mowing their lawn once a week all summer.
Mittens, hats, or scarves made out of wool sweaters.
Hand-knit hats which can be made quickly and easily using a circular knitter.
Fresh eggs if you have chickens.
Fresh herbs or transplants if you have an herb garden.
Homemade soap.
Homemade candles.
Homegrown honey if you have bees.
Clove oranges.
Homemade jelly, salsa, or pickles if you're a canner.
Gift certificate for a homemade dinner once a month or three times a year.
Coffee mug with cocoa, coffee, or tea.
Homemade sweetbread, like pumpkin or gingerbread.
Care package of homemade cleaners.
Homemade laundry soap.
Soap nuts.
Beef jerky–homemade or store-bought.
Decorated glass bottles or jars.
Homemade extracts, such as vanilla.
Homemade seasonings, such as taco, Italian, pumpkin, all-purpose seasoning, and cajun spice mix.
Homemade chocolate-covered almonds.
The recipient's favorite food or ingredient, such as a spice, kind of cheese, or container of honey.
Picture frame with a family picture in it.
Picture frame with a picture of you and the recipient together.
Framed artwork from a member of the family.
Dry erase boards made from picture frames with pretty paper behind the glass.
Homemade lip balm.
Homemade bath salts.
Crocheted wash cloths or hot pads.
Replacement towels and wash cloths.
Restaurant.com gift certificate.
Handmade ornaments.
Hair doo-dads.
Photo session gift certificate.
Free babysitting gift certificate.
Mixes in a jar.
Redbox gift cards.
Flash drive filled with photos.
Frozen homemade cookie dough.
T-shirts with family pictures or children's artwork ironed on.
Homemade dog, horse, cat, or bird treats, depending on recipient's pets.
Homemade turtle chocolates.
Homemade truffles.
Gently used books.
Lottery tickets.
Date night basket–ingredients for a dinner, plus a movie on DVD or a Redbox giftcard.
Movie tickets.
Tickets to an event the recipient loves, such as the races or the theater.
Reusable grocery bags full of goodies.
Fresh bread.
A can of nuts.
Donation to a charity.
Chocolate-covered pretzel sticks.
Emergency crank radio. (A little pricier, but a great gift!)
Emergency car battery charger. (Also pricier, but a great idea for the drivers in your family.)
First aid kit.
Homemade pancake mix in a jar with a bottle of maple syrup.
Cookie mix with a cookie cutter.
Homemade caramels.
Homemade peanut brittle.
Lip balm–homemade or store-bought.
Pens, pencils, notepads, and a pencil sharpener.
Lottery tickets.
A CD of you reading a story.
Homemade soup ingredients in a jar.
Bowling coupon.
Warm socks.
Slippers.
Can of Reddi-Whip. Oh yeah!
Gift baskets from the store.
Mug, loose tea, and a tea ball.
Membership to your cookie-of-the-month club–deliver a different batch of cookies each month.
Membership to your pie-of-the-month club…or cake, cupcakes, or dessert to cover everything.
A favorite candy.
Starbucks gift cards.
Freezer meals.
Gift certificate for a day of freezer cooking together.
 Pjs.
An evening of skits, readings, music, and sing-alongs, complete with handmade programs.
Handmade jewelry.
A memory CD, where you share your favorite memories of the recipient.
A family heritage CD, on which you share stories of Christmases long ago, particularly wonderful for the older generations to do for the younger.
A recital on CD or DVD in which you record your children playing piano, reciting poetry, giving speeches, performing skits, or whatever else you can come up with. This is particularly wonderful for far-away relatives.
Ingredients for a dessert or meal and a gift certificate to make it together.
Supplies for a craft and a gift certificate to teach the craft.
Yarn and patterns for a crocheter or knitter.
Woodcarving book and tools to spark a new interest. Don't forget a piece of wood.
Homeschool books or supplies.
Spa set, including a candle and either bubble bath, essential oil for the bath, or homemade bath salts.
Your favorite recipes in a binder or a recipe box.
Paint set to spark interest in painting.
Eyeglasses repair kit.
Lens cloth for glasses, cameras, and electronic screens.
Small sewing kit for quick repairs. Make your own if you have most of the materials on hand. Otherwise, it's cheaper to buy one.
Hand warmers.
Neck warmer.
Car emblems or parts for an enthusiast.
Ice scraper and a batch of homemade de-icer.
Homemade lip gloss–fruity or plain.
Homemade dog treats or other-pet treats.
First aid supplies or kit for dogs, cats, horses, chinchillas, iguanas, whatever!
Herbal first aid kit.
"Quiet please–Mama and baby are napping" to hang on the front door or bedroom door at naptime.

Fire starter (flint), compass, and para cord bracelet for the adventurer in the family.

Jack knife for a coming-of-age boy.
Homemade sugar scrub.

 Or try this super simple

peppermint sugar scrub

.

Retractable phone charger

to keep pesky cords under control.

Unique money, like two-dollar bills or silver dollars.

Cord organizers

to keep cords in place and accessible.

An remote controlled light turner-offer-and-onner to control an outlet from afar.

A kitten. My kids made me write that, but seriously, if you're planning on a family pet, wouldn't that make it the best Christmas EVER!
Special thanks to my readers, family, and brain for these great ideas. Also, special thanks to the Homemade Living Frugally fans for sharing their ideas on Facebook.