This week is the official launch of the Christmas season. If you've been following the Twelve Weeks of a Simple Christmas missions, you're almost ready and can skate through the month with peace! If you are behind (like me), just jump in where you are. No procrastinating, no yelling at your kids, no blaming your hubby–just jump in joyfully and enjoy the season.
This week's mission is a continuation of what you've already begun.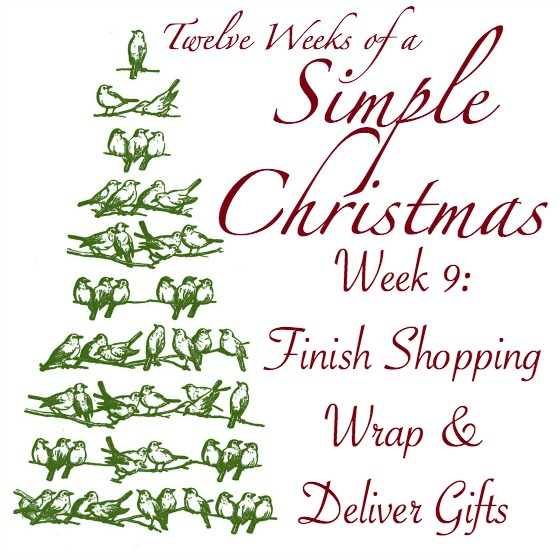 1. Finish your Christmas shopping. If you can get it all taken care of by December 1, have a candy cane! If you can't, have one anyway. If you're making gifts, that have to wait until the last minute, double check that you have everything you need (including time).
2. Wrap all remaining gifts. I wrap everything individually, including stocking stuffers–it makes Christmas morning last longer and the kids feels like they're getting more presents than the bank account actually allows for.
3. Deliver teacher, office, mailman, newsboy, and pastor gifts (unless there are specific times, such as an office or classroom party, when gifts are exchanged.) Ship gifts that need to go to family far away. (Remember, the post office does pick-ups.) Hide the rest. Wink.
It's all about giving this week.
See all the Simple Christmas missions here.
Happy Thanksgiving!
Accountability Time
Let's not go there. Wink wink. You know that comment at the beginning about not stressing out about being "behind?" That was for me.
Now is the perfect time to take a look at my ebook, From Frazzled to Festive: Finding Joy and Meaning in a Simple Christmas. It will help you with the practical side of Christmas as well as keep things in perspective. As one reader said, "It's a guide for life–not just Christmas."