Trailer-Friendly Children's Paint — Kwik Stix
Trailer-Friendly Children's Paint — Kwik Stix
Those of you who have four-year-olds are wondering why (since this is my seventh four-year-old) I don't have more parenting sense. (Others think I'm negligent for not joining in, but that is a parenting discussion for another day.)
Letting her paint alone–insane! You're thinking I woke up to the entire travel trailer arrayed in pinks and purples, or the cat painted, or at the very least bowls of water and containers of paint spilled on the tables, cushions, and floor.
Not at all. I woke up to this: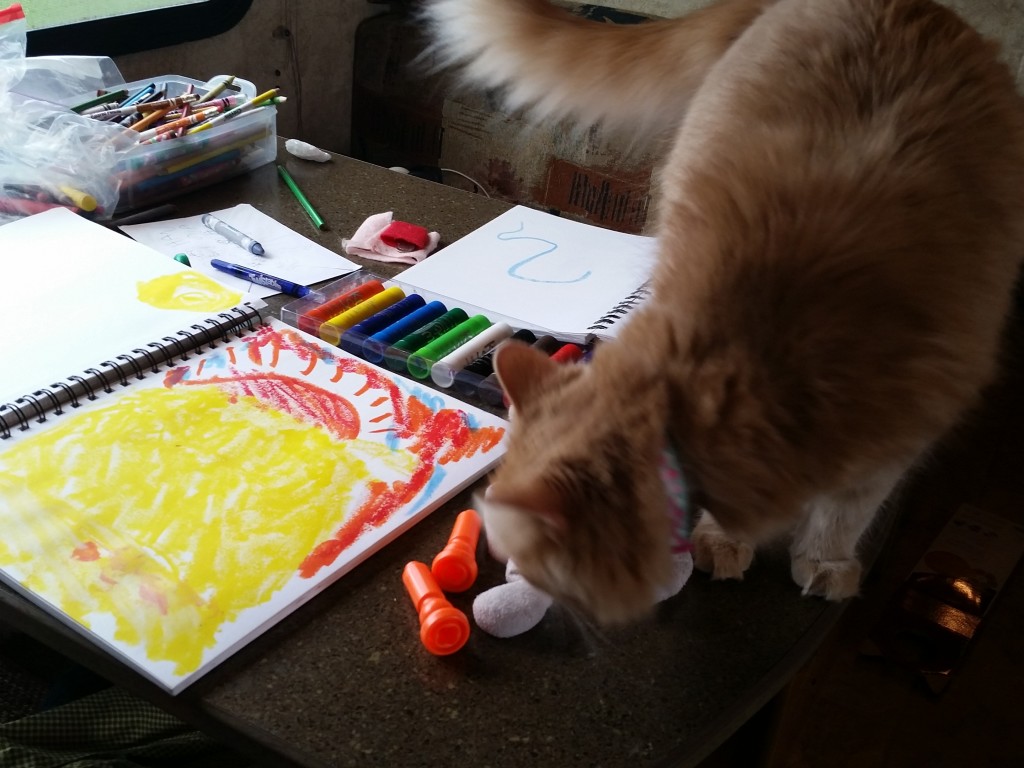 Two sisters had been painting together–two sisters aged 7 and 4. Please take note of the mess. Here's another angle:
There is a mess–there are crayons and colored pencils lying around, a couple stacking pegs, a bear face-planted into the table, a little felt vest they sewed, a wadded up tissue or something equally sinister. But there is no paint mess lying around. Even the cat can't make a mess out of the project, and you know that cat would be redecorating the curtains if she could. Poor disappointed kitty.
(If you have a four-year-old artist and a curious cat and you're sold on these paint sticks right now, they are available on Amazon (affiliate link).)
What Tuppence the cat is standing on is a set of Kwik Stix. Here's a better view: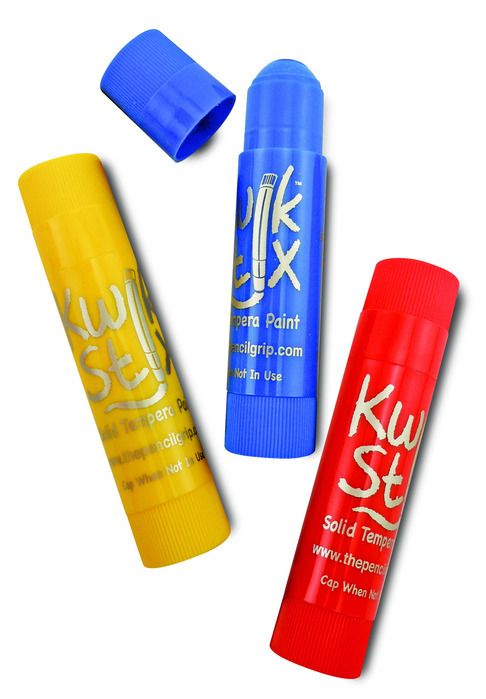 They work like paint, only there is no brush, water, or extended drying period. No water! No water!
That's my favorite part.
The colors are easily contained, easily stored, easily used…while Mama is napping. Hooray!
I really like the look of the projects my children made with the paints.
These are not markers–it's tempura paint. You can change the look and feel of the picture by layering or adding pressure. While you won't do a ton of blending due to the rapid dry time, you can do a bit. What takes this up another notch is the younger painters won't end up with a big page of army brown with a hole in it. That's the painting we all know and love from childhood, right?
Rebecca (7) likes the soft look, like in this valley scene that she matted and hung on the wall: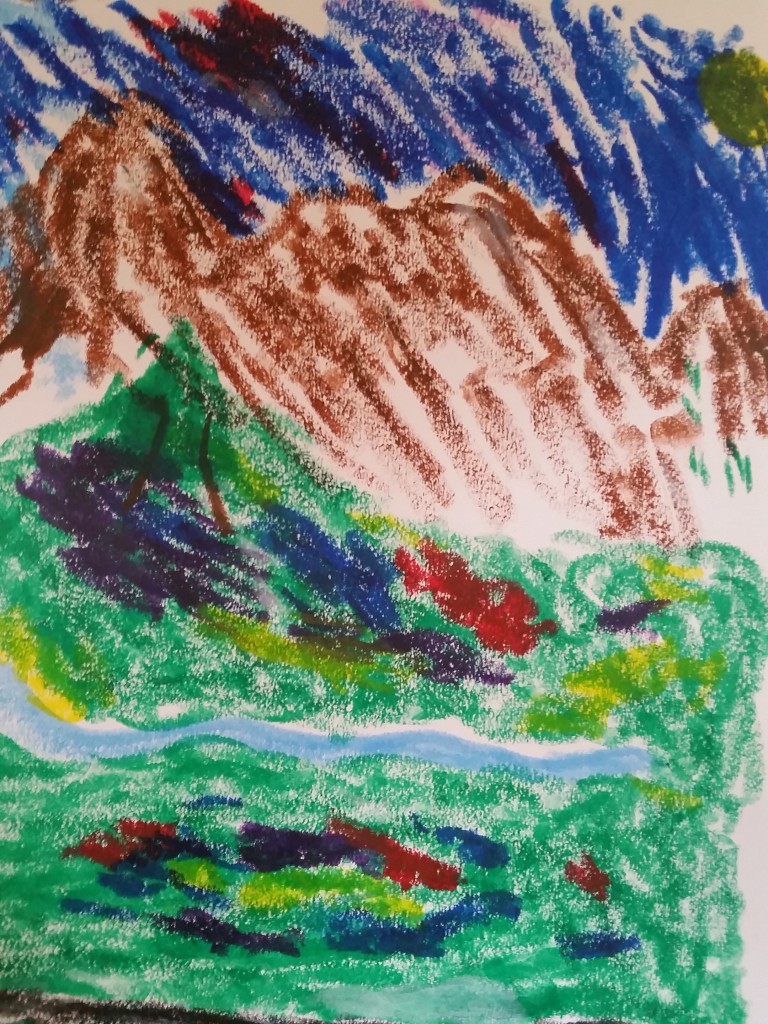 Elijah (10) is a little bolder and would rather rush through several projects. The tempura paint dries in only 90 seconds, so he can do that right in his sketchpad without our having to limit him based on available counter space or hanging space for drying. (Remember we live in a travel trailer–all 10 of us and two critters.)
This is his bold creepy clown (clowns creep us out):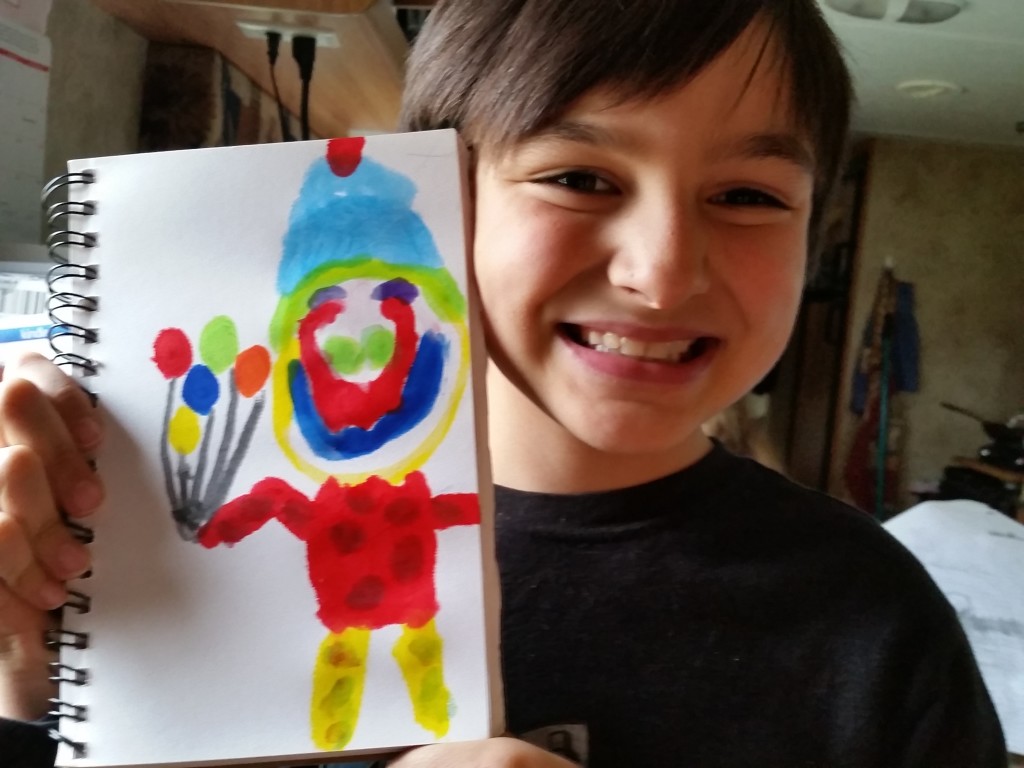 Eliana (4) and Elisabeth (15) worked together. Ellie made a request, Elisabeth "Bean" painted it on one side of Ellie's sketch pad, and Ellie copied her. I'm sure in the higher-trained educator circles, this process has a name, but I just call it Neat and Sweet.
Here are some results of one of their Neat and Sweet sessions: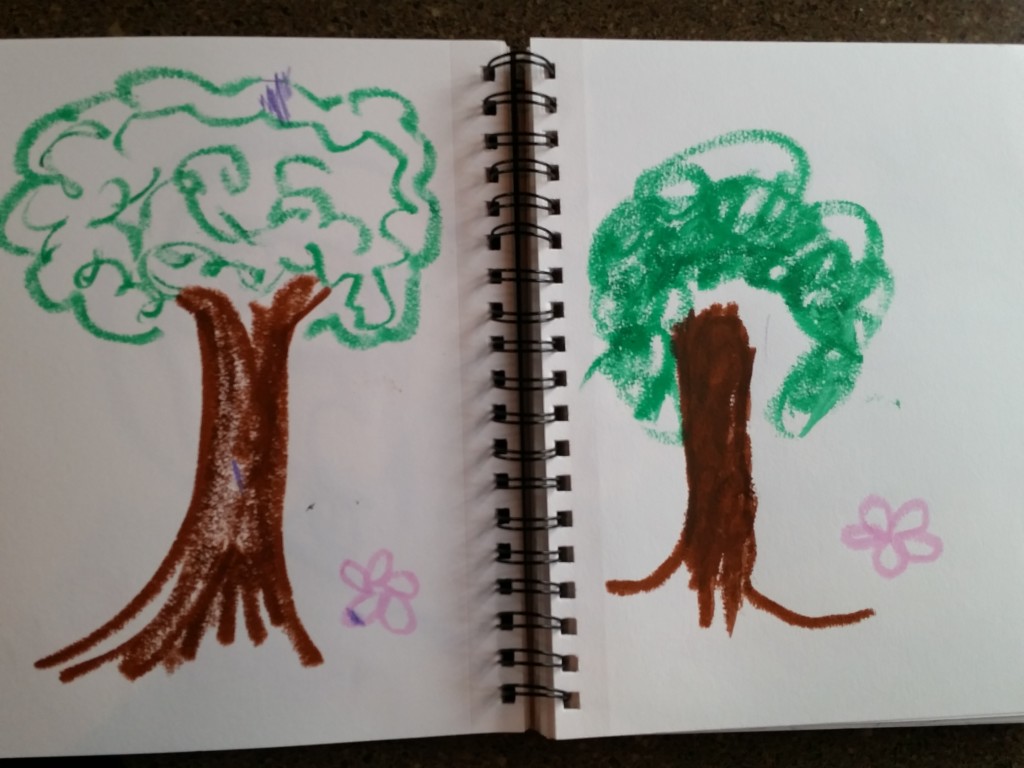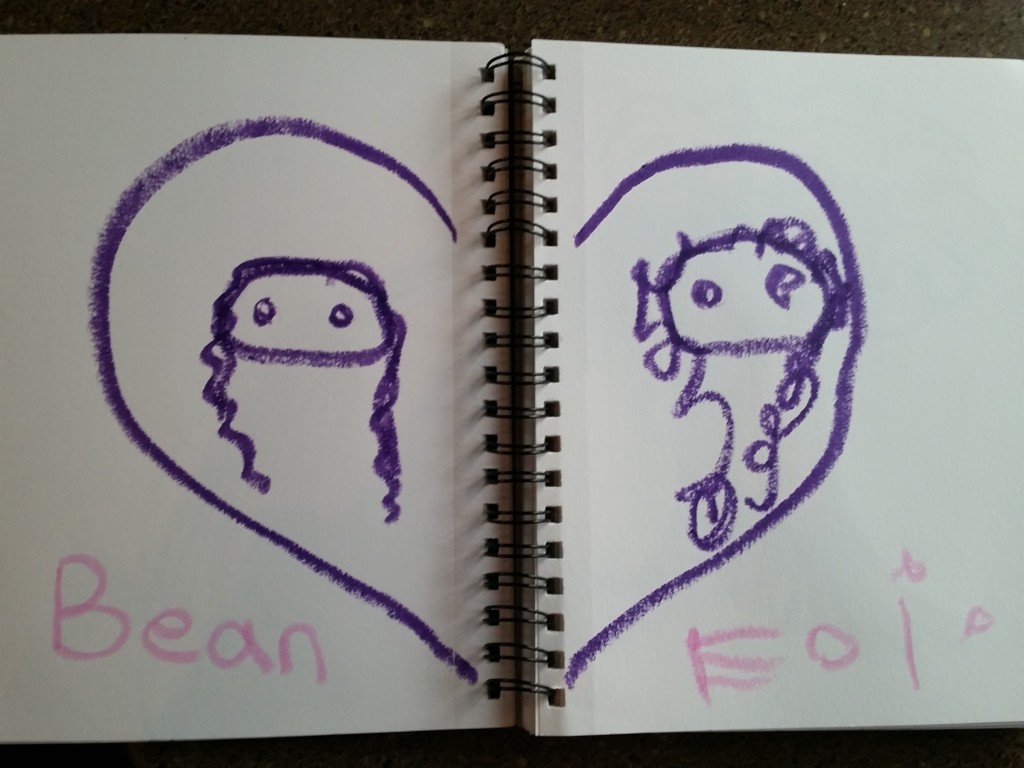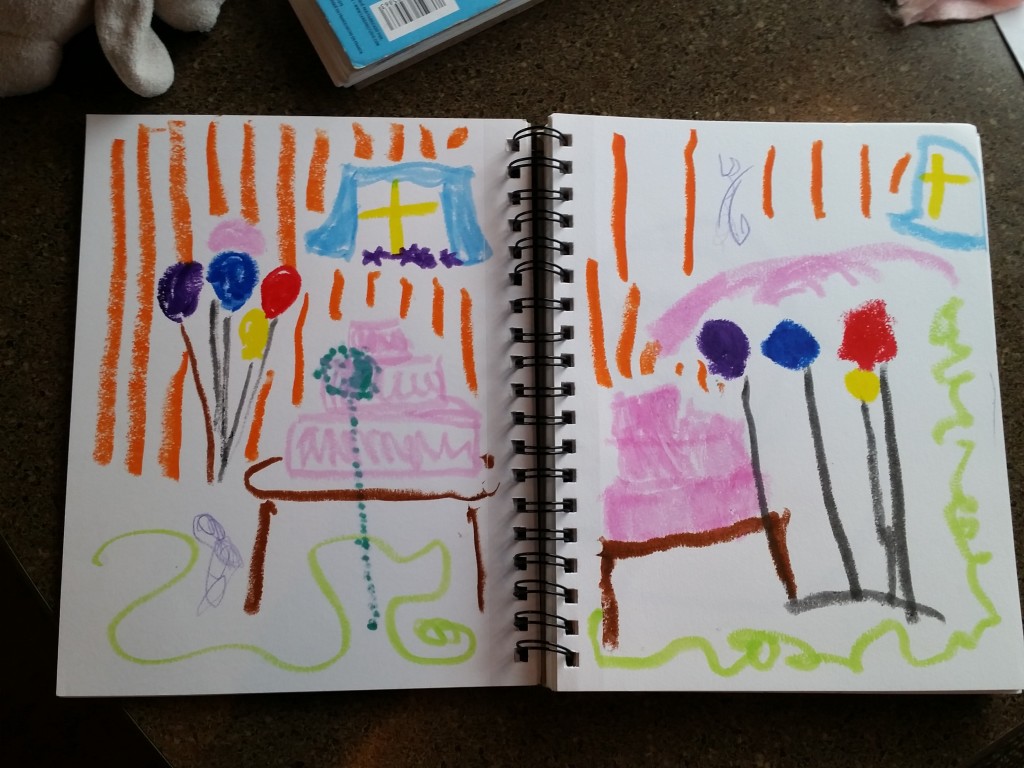 Notice the green one-legged blobster (blobby monster) showing through the picture on the left. That's from coloring with marker on the other side. As of yet, we have not had a single incident of the Kwik Stix showing through on the other side. That's a pretty big deal when you're 4…or 43.
The Neat and Sweet duo also worked on a horse together. Bean drew the outside shape, and Ellie drew the same shape inside of the original, and so on until they had a horse. Actually, they had a cow, but a little mane-and-forelock action transformed it into the horse of another color you've heard tell of.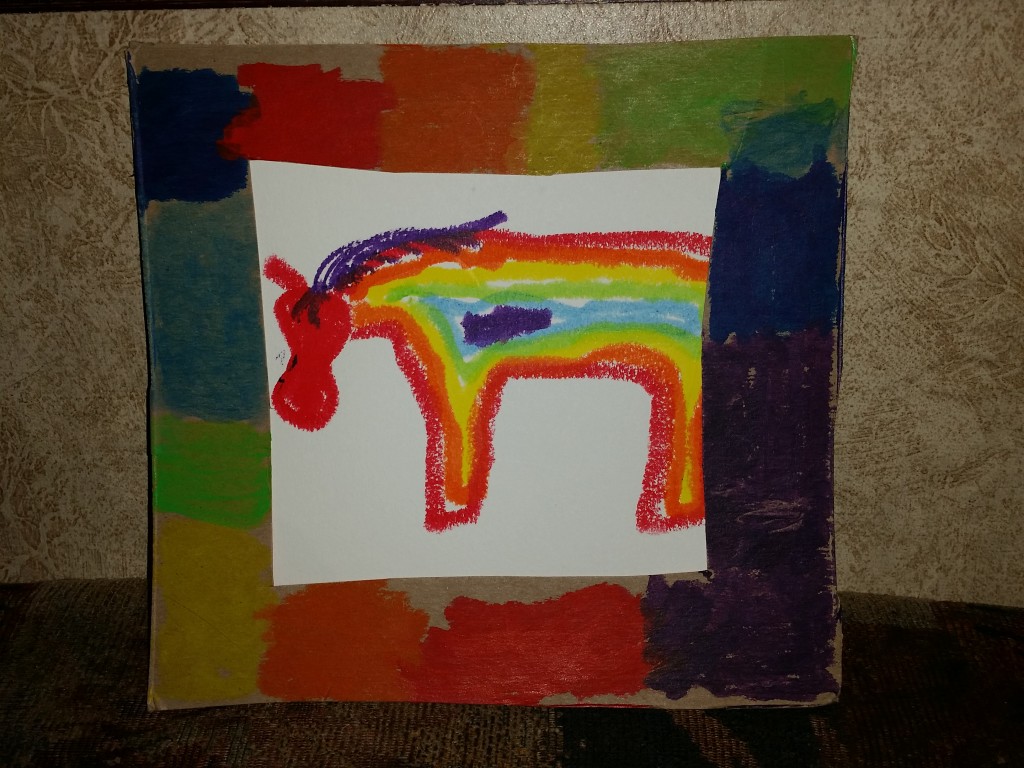 The kids also painted frames they had cut out of boxes. Wouldn't that make a great Mother's Day gift?!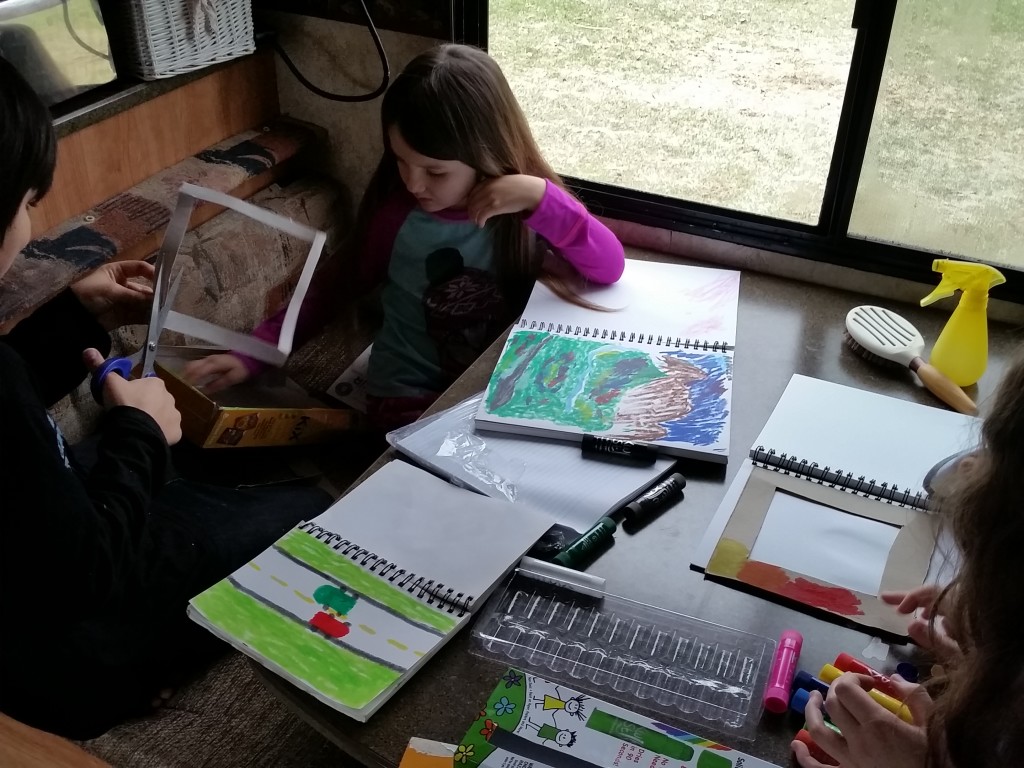 For some reason I have yet to comprehend, every single time the kids use the Kwik Stix, they put them away! Covers on, sticks in the plastic holder, voila! Apparently, Kwik Stix come with a little bit of Mary Poppins magic or the box screams "Put me away!"
These would make excellent gifts–end of school parties, birthday parties, Christmas stockings, Easter baskets. They would also be great to stock up on for classrooms, parties, daycares, or summer indoor fun. My kids love them.
You may wonder why the company is called The Pencil Grip, Inc., instead of Best Kids' Paint Ever, Inc. They produce pencil grips, which are small finger positioners that slip onto pencils. The child or adult who has a really bad unique method of holding a pencil positions the fingers on the Pencil Grip and–bada bing bada boom–the hand is positioned properly. They even have a three-step trainer set.
This is not an issue we are currently struggling with, but we used them in the past for previous children (and me), and they work well.
Here's where you can go to learn more about Pencil Grips.
Additional thoughts for my fellow roadschoolers:
Art runs deep in this family, as you can see by our second daughter's art business, so we've tried to have ready supplies in the trailer for any time the art bug strikes, and for our Saturday art classes. Unfortunately, the paint wasn't making the cut–too messy, bulky, time-consuming, space-consuming, and messy–that deserves to be mentioned twice. The kids were restricted to a little watercolor set you find in the craft and school supply aisles at Wal-Mart. Even that made me cringe with the bowl of water/cat combo.You understand if you live on wheels!
This is the solution.
We're still keeping our watercolor set around so the kids can paint with brushes, but I no longer feel compelled to stock acrylics. What a relief!
Click here to learn what stationary schoolers have to say about Kwik Stix:
To find The Pencil Grip, Inc., online, go here…or here or here or…: