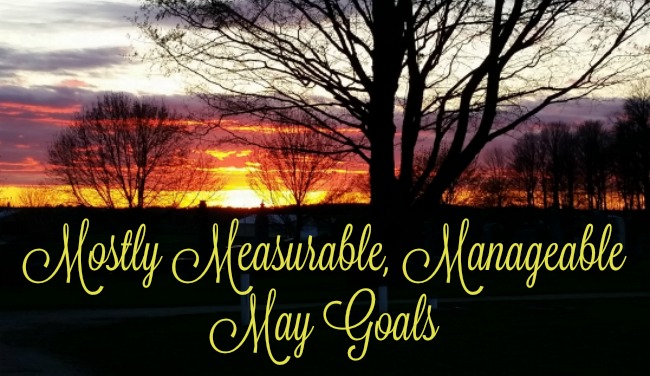 How did you do on your goals last month?
We were doing great, but then we were sidelined by the flu. We still managed to get our pie made and had a great Filipino feast for Emily's birthday, so March was a good month. March! Then came April, and we were still flu-ish, so I skipped my goals. Ahem. Let's just move on and not address my lack of motivation last month.
May.
Remember the ridiculously obvious rules for our mostly measurable, manageable monthly goals:
They should be mostly measurable.
It's manageable.
It's a monthly goal.
You have to write your own goals, but here are my mostly measurable manageable monthly goals for May:
Family Habits
Breakfast Bible: finish Luke.
Monthly family manner: please and thank you. Sometimes we forget. Ahem.
Monthly family home care habit: the entry way…again. Progress is slow, but forward-moving. And now we have a pretty rug from my grandma–something pretty makes it easier to keep things clean, don't you think?
Monthly character trait: practice finding the positives. You can never get too much practice!
Prayer: meal-time prayers have slipped by the wayside.
Family Fun
Have one game night focused on the older group.
Have one game night focused on the younger group.
Celebrate National Apple Pie Day on May 13. It's still the year of the pie, after all.
Watch Princess Bride and eat Inigo Montoya stew.
Homeschooling
I'm not setting any goals this month. It's an odd month, and we're just going to enjoy it and move forward as we can, apart from a few reviews. Sometimes life is like that.
Write June 2016 newsletter.
Continue 2016 thank you notes.
Update subscriber list.
Health
Walk 30 minutes 3 times per week.
Do Fit2Be 5×5 5 times per week.
Add cod liver oil back into our diets. Yummy.
Writing
Write contracted article for Pregnancy & Newborn Magazine.
Five-ish TSHM posts.
Personal
Journal weekly.
Smile.
Master one thing from America's Test Kitchen Cooking School Cookbook–-haven't decided what yet, but that's half the fun.
Unsubscribe from 30 subscriptions.
Get inbox down to a big fat zero. Miracles happen.
Work through a few days of The Love Dare again.
Read whatever I feel like! Grin. It's a low-pressure month.
What are your goals for May?