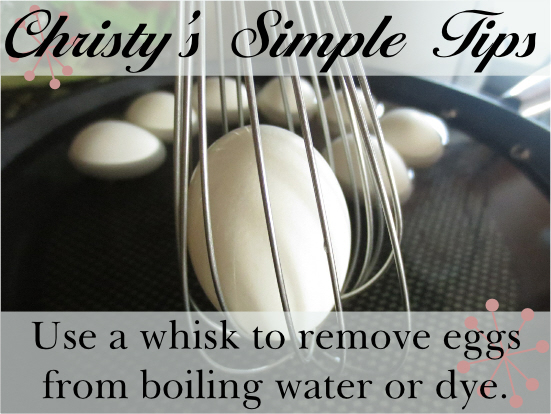 Use a whisk to remove Easter eggs from a cup of dye without coloring your fingers, or to lift boiled eggs out of hot water without burning your hands and without dropping the slippery little buggers from a spoon. This also works to remove them from ice water if you cool your eggs after boiling.
Simple press the whisk onto the egg, and the little stinker should pop right through the loops on the whisk.
To remove the egg, separate the wires a tad and the egg should pop right out. If it doesn't come out, it doesn't deserve to be free.
Of course, if you like your kids to show up at church on Easter Sunday with dyed hands and wrists, you won't want to use this technique. For our family the dyed hands on Easter are a tradition, and I'm not one to break with tradition.
I think I'm going to bring a whisk to the next egg-and-spoon race we're invited to. That's not cheating, is it?
To see your favorite simple tips featured on The Simple Homemaker (including a link to the page of your choice), please submit it through my contact page or send an email (pictures are optional) to TheSimpleHomemaker at gmail dot com with SIMPLE TIP in the subject.