You were just about to try The Simple Homemaker's fantastic Sleeping Baby Biscuits when you realized, rats, you're out of baking powder.
No problem!
This simple baking powder recipe will teach you how to make baking powder in under a minute…barring any unforeseen kitchen tragedies.
How to Make Baking Powder: A Simple Baking Powder Recipe
Simple Baking Powder Recipe
Author:
Prep time:
Total time:
Running low on baking powder? No problem! Learn how to make baking powder in under a minute with this simple baking power recipe.
Ingredients
1 teaspoon baking soda
2 teaspoons cream of tartar
Instructions
Mix the baking soda and cream of tartar. Use in place of one tablespoon of baking powder.
Mix only as much as you will use right away. If you wish to store it for long term use, add a teaspoon of corn starch, potato starch, or arrowroot powder and seal it in an airtight container prominently labeled "My Amazing Homemade Baking Powder," 'cuz who doesn't need a little pat on the back in the kitchen!
Multiply the quantity of ingredients by how much baking powder you need, keeping in mind that there are three teaspoons in one tablespoon. Hello, math skills! (Cheat: if you need 2 tablespoons of homemade baking powder, that's 2 teaspoons soda, 4 teaspoons tartar, and 2 teaspoons corn starch if you're using it.)
Whether you want aluminum-free baking powder, need corn-free baking powder, or simply ran out, this baking powder recipe has got you covered.  Did you ever think learning how to make baking powder could be that simple?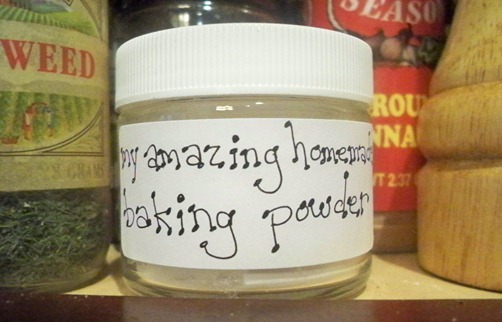 Well, what do you think? Did it work for you?
Linked up to Healthy 2Day Wednesdays,  Pennywise Platter Thursday, Weekend Whatever, and Kitchen Tip Tuesdays.