Memoria Press is one of my top curriculum companies. Recently they offered us a chance to check out their Music Appreciation I book. I may have drooled a little.
If you are a full-fledged classical Christian educator, you're probably already familiar with Memoria; if you aren't, you should be, because you'll fall in love with their complete grade level curricula sets. If you're a different sort of educator who takes a classical bent toward some things, then check out their individual courses, such as, oh, this Music Appreciation course!
Let's talk about that a bit. Actually, a lot.
Memoria Press Music Appreciation Course: What It Is
The Music Appreciation Course is a single book with two CDs. (The picture below shows the book open and closed–it's the same book. I mean, they have two of the same book. You will get one book. You understand!) The book includes chronological lessons covering the history of western music. Lessons are broken up into several sections. Each lesson references a single portion of a work by a single composer. The works are available online, and the website links directly to them. This is the only internet access you will need.
Each lesson goes through the following:
Listen to the selected peace. I wrote peace instead of piece, but you know what? Every time I play it, the van gets quiet and people really listen, and then they get loud as they start dancing and grooving and percussionating (real word) to the music. It's very peaceful. And each peace-piece is extremely well performed and produced on an oral and visual level–no high school bands or home recordings (sorry high school bands and home recorders). All the selections are available on YouTube and iTunes. I don't get iTunes on my not i-phone, so I can't tell you the quality there.
A brief history of the composer and the piece. This is brief, like a full page, but super interesting! It's well-written and captivating, and I'm ultra picky.
A little lesson (and I mean little) in some sort of music theory. It's done little by little, topic by topic, and builds upon or repeats with a slight expansion of previous topics. It's really quite interesting and accessible.
Listening exercises to learn and use the new music theory knowledge. This is where the discs come in. They are not mp3s from my understanding, because my Flintstone van doesn't play mp3s and it plays these discs. Each lesson is different, but essentially the disc plays a small section of a piece, like one theme, section, or line, to emphasize what was discussed in the music theory lesson. It is well done, although, ahem, my family of professional musicians wasn't super excited about the Twinkle Twinkle singing and would have preferred a more soothing voice. That's the only complaint so far! (I say this because audio and voice quality are curriculum winners or killers for people in the audio field, just like poor video production or artwork or writing will kill an item for someone in the video, art, or writing fields. You audio people are completely safe with this program so far…after Twinkle Twinkle in lesson 1.)
Another little history lesson, but this is more music-based than composer-based.
Review. The review is great. It's sort of like this: Hey, did you catch this and that and that and this? I use it each week to review quickly some of the previous lessons, especially the music theory if there was something I didn't think everyone was solid on.
Extra practice. This is, uh, a little extra practice–sort of a "listen again for this" opportunity. It's great to tie everything together. My kids often say, "Again!" After which I say, "I didn't hear a please…." But we do it again anyway.
After four lessons there is a test. The tests are all together in the back of the book and so are the answers. I had my kids do the tests on a separate sheet of paper. I trust them with the answers right there, but someone spilled coffee on a bunch of paper, and it had to be used up. Truth.
Age Recommendations
Memoria Press–such a lovely name–recommends this for grades 3-5, which makes me feel like an dunce, because I've learned a ton through this program! My husband studied music theory in college and is a professional musician, so he knows most of the theory, although it's a good review for him. I took piano lessons for four years and took the obligatory music class in high school which basically taught me how much I looooooaaaaaathe group projects and that Kansas is a state and a music group. Essentially what I think they're saying is that children in grades 3-5 are ready for this information, and that it is a good age to start them.
That said, I am using this program exclusively in the van when the entire family, including Steve the husband and dad and professional musician, are awake. That means everyone from 2 to 21 and parents are all enjoying this course together. Some parts are review for some people, but we have all  learned something, and most of us have learned quite a bit…and we're a musical family.
I would definitely say my kindergartener, who is 6, is too young to fully benefit from the program, but she is learning things, is being exposed to phenomenal music, is becoming more familiar with names of musical greats, and is listening to music in a different manner, even if she can't pronounce ritornello. I wouldn't hesitate (and obviously didn't hesitate) to include younglings in the mix with the older kids.
My third grader is in the recommended age group and is the reason we accepted this course. She is completely enjoying the program and doing quite well in it. She is, however, highly interested in the subject and has a good head on her shoulders when she chooses to use it. If a child finds this frustrating at age 8 or 9, I would definitely hold off a year or two and come back to it later.
Outside of the age group on the older end, I have a sixth grader (12), freshman (15), junior (17), college senior (19), and a 21-year-old. They are all listening and learning, although the 21-year-old is an accomplished pianist and knows some of this already, but it's great review. I wouldn't hesitate for a second to use this with high schoolers. Not one second!
And then there's the two-year-old.
Ha ha. Potato chip boy doesn't like anything to be louder than he is, but he too is getting into the music. My favorite for him so far is one of the earlier lessons–Vivaldi's winter–during which the children match the poem to the song so they can hear the music as stomping feet or chattering teeth or howling wind. Mine reenacted that…for a long time…and quite enthusiastically. That might explain the blown tire.
How We Make It Work
We do one lesson a week and only when everyone is available and only on driving weeks…which is most weeks, since we drive all the time! We follow the program exactly as written. First we listen to the piece. Then we read the history. That's it for the day–maybe 10-15 minutes depending on the length of the piece. (We do a minute or two of review at the beginning, so make that 12-17 minutes if you want to be picky, and right now I'm feeling pretty picky.)
Next driving day we do an ever-so-brief (30 seconds) review and then study and practice the musical concept taught that day. This is about 20 minutes max.
Next driving day or the same day if people want more (usually same day), we go through the review and practice sections and listen to the piece again with our newfound knowledge. The entire lesson takes us no more than an hour, and usually less. The only reason it takes us up to an hour is because we listen again and again to some sections or pieces, either because we love them or because we want to practice some more.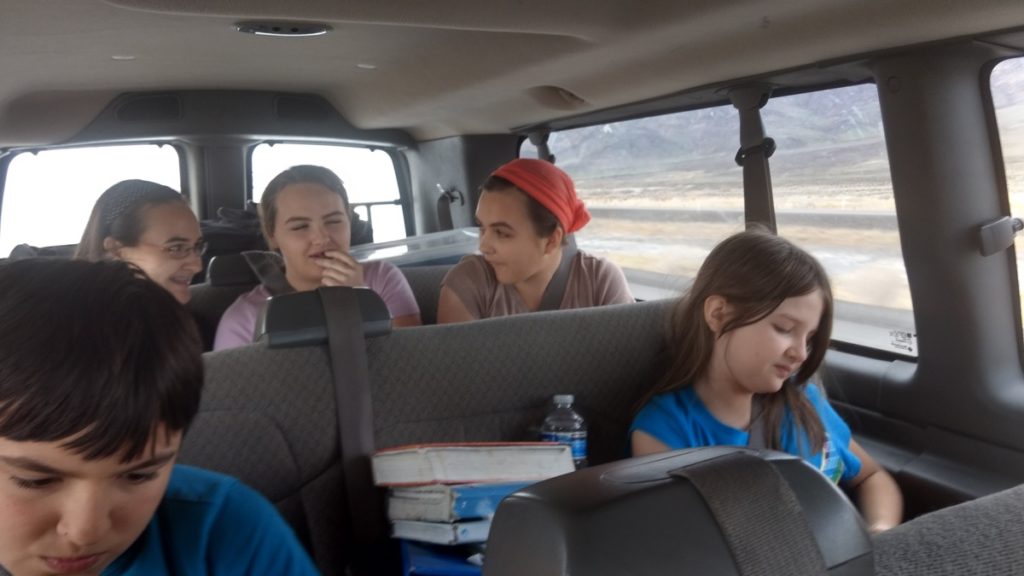 (That picture is after they finished listening, because my camera and phone and listening device are one and the same, but this is what the participants look like sitting in the van. )
Every four weeks there is a test based on four lessons. For my large group, I pass around the book and let them take it on their own (10 minutes for most, although the third grader took about 30), or I ask questions aloud and have them write answers. There is a listen-and-identify section that we do together. The reviews we do before each lesson are mostly sufficient to prepare them for the tests, but they can also go back and review on their own if they're so inclined. Also, once they've taken the test, I let them go back and use the book for any answers they didn't know.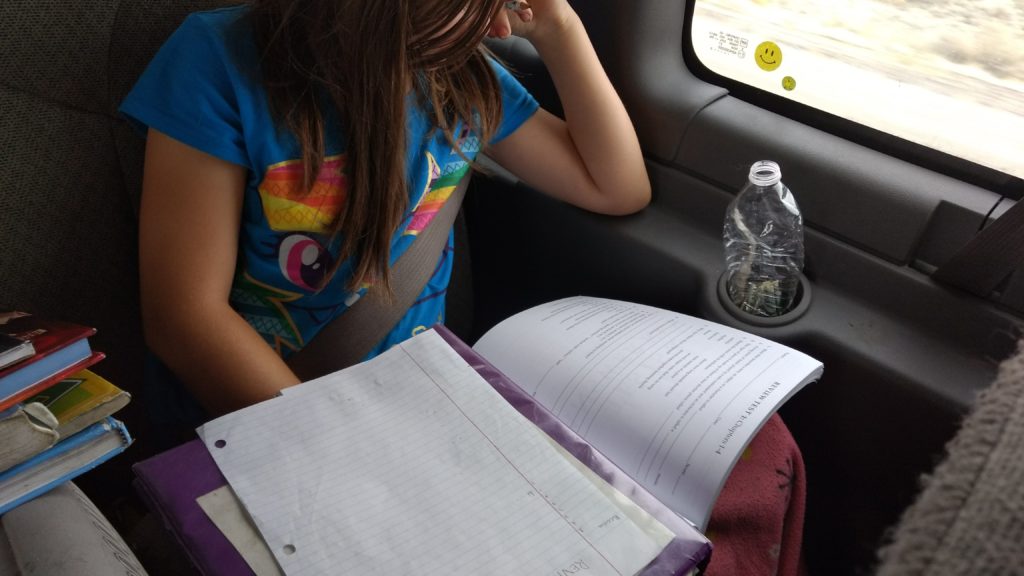 (She did more than one problem–I took the picture at the start of this examination because, confession time, I fall asleep a lot in the van. Plus I forget things.)
That's it. It's super simple. Everything is laid out beautifully, understandably, simply.
I know I say we're a musical family, but personally I'm kind of a musical dunce. I teach my kids basic piano and make them sing hymns in harmony, but I don't know stuff–you know, stuff. Even I can do this course. Sometimes I might have trouble finding a theme or detecting an instrument or something, but it's all a matter of ear training, patience, and practice–there's no rush! And if you don't "get" something, it's okay. You will still garner quite a bit of interesting information from this course.
There is a technological side to this course. When the technology brain cells were handed out, a bird ate mine. True story…maybe. But I don't let that handicap stop me. Here's what I did to make this work for us in the van. (Some of you are going to be like, "DUH! That's so easy!" To you I say, "Show me the pastern and coronet on a horse, diagram the Preamble to the Constitution, make me some chocolate without sugar, and treat this diaper rash with no chemicals." We all have our gifts.)
I made a shortcut on my phone to the website where all the videos are linked–I don't remember how I did that, so ask YouTube instead of me. Each week when we want to listen, I simply tap the shortcut icon, select my selection, and BAM! It's playing on my phone.
That's a screenshot of my phone's app page. I know–so many apps! And in Spanish! Ugh. See the shortcut in the upper righthand corner? Easier than pie.
To run it through the van speakers, I plugged my phone into the van's input using my headphone cord so the van speakers are like my headphones…but louder and less private. I can't take a picture of it, because, again, my camera is on my phone, and the music is playing on my phone, and my phone is hooked up, so here's a picture of my van's radio.
Wow, that was helpful.
That's all the tech advice necessary, unless you don't know how to play CDs. I won't judge.
Our Final Assessment
I love this course and the offspring do as well. I'm setting aside what we were previously doing and continuing with this course until I've done the whole thing. Then I am hoarding it so I can do it again later when the younglings are old enough to gain more from it.
It is exactly what I was hoping it would be, except more interesting. Sometimes I want to do three lessons in a week! But I stuff a potato chip in my mouth and sit on my hands.
Memoria offers a free sample page right here, so check it out if this sounds like something that might interest your crew.
You know what though–I shouldn't be surprised. We love everything we've ever gotten from Memoria Press.

More From Memoria and the Homeschool Review Crew
Other members of the Homeschool Review Crew reviewed numerous other publications:
And here's my review on their Fourth Grade Literature Guide Set.
To read their reviews, click right here or on the banner below: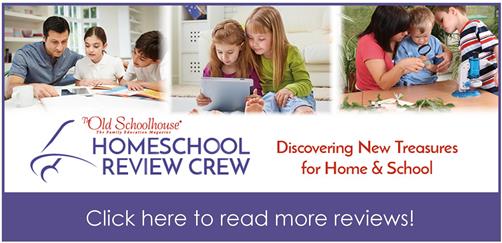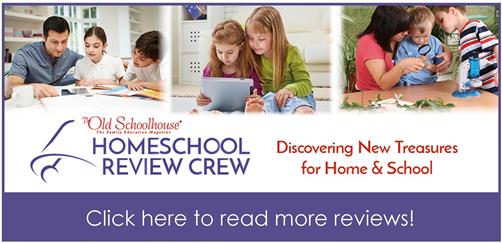 For information on their other great books, including sales and new publications, follow Memoria Press on social media: