Homemade Salad Dressing Recipe – Italian Dressing
Homemade Salad Dressing Recipe – Italian Dressing
I haven't purchased salad dressing in years. Why not? We make it ourselves.
Homemade salad dressing is the way to go, people! You can adjust the flavors to your liking, avoid any allergens or additives, control the sweetness, save money, and procrastinate just a little bit longer on that trip to the store. Best of all, it's simple and delicious!
We have a variety of homemade salad dressing recipes, including the classics, such as ranch, Caesar, and French, and a few more creative options. Today's salad dressing recipe is our quick go-to Italian dressing that we throw together as needed or to keep on hand for a quick lunch salad or dinner side.
To create this recipe, we took an existing recipe from Pampered Chef and altered it considerably over the years to fit our tastes and preferences. This recipe allows for numerous variations, so don't be afraid to experiment to find what suits your family best.
Homemade Salad Dressing – Italian Dressing Recipe
Ingredients
1/2 cup white wine vinegar
1 cup extra virgin olive oil
*1 tsp basil
*1/4 tsp oregano (missing in the photo…and this batch)
*3-6 cloves minced garlic (may substitute 1/2-1 teaspoon garlic powder)
*1/2-1 tsp salt (start with less and add more if desired)
1/2 tsp onion powder
*(You could replace all of these with 2-3 teaspoons of Italian seasoning, but because each Italian seasoning recipe varies, you can adjust the dressing more to your personal liking by using separate seasonings.)
Combine all the ingredients in a container and shake or stir to combine.
Notes and Tips:
We usually whip up and serve our Italian dressing in a Pampered Chef "Measure Mix and Pour" salad dressing container that I bought a decade ago. It's so simple, a four-year-old can use it. See!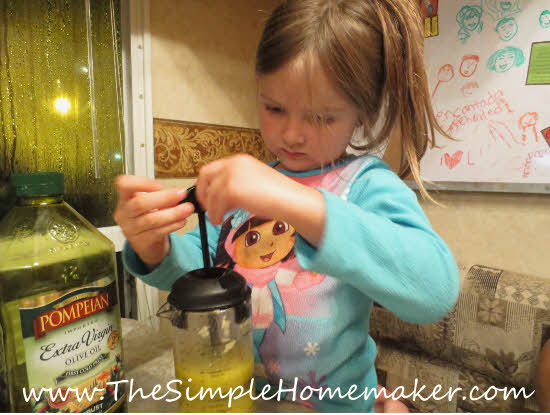 Amazon also has dressing mixers, such as this one, that look like they work in a similar manner. I also like the cruets that you fill, close, and shake, like this one.
Another option for shaking and serving is to toss all the ingredients in a wine vinegar bottle, shake it up, and serve it from the bottle. It's the free option.
One of the perks to making your own salad dressing is eliminating unwanted ingredients, such as sugar. We don't put sugar in our homemade dressing, but if you want to take the edge off the vinegar or sweeten the oil, add sugar or the sweetener of your choice in 1/4 teaspoon increments (less if using stevia) until it reaches your preferred sweetness. Taste as you go.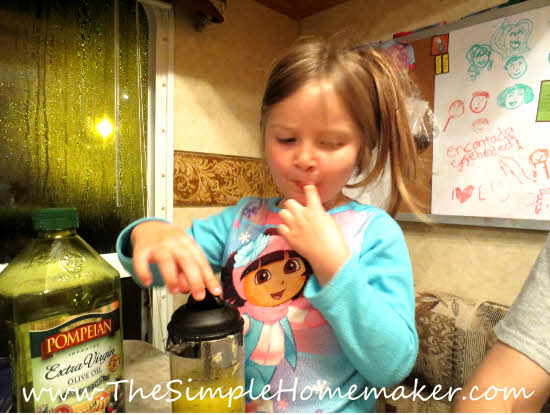 We like a 1:2 vinegar to oil ratio, but if you prefer less vinegar, experiment to find the ratio you like best. Sometimes I'm only in the mood for a 1:3 ratio, and use 1/3 cup vinegar. The same applies to the garlic…and all the other ingredients. Alter them to suit your tastes.
During cold and flu season, add extra garlic for a little immune blast! This batch had 6 cloves, but we normally use 4.
If the olive oil flavor is too strong for you, swap out half the extra virgin olive oil for another healthy oil, such as grapeseed oil (commonly available in most grocery stores) or avocado oil.
Shake before using, as the dressing will separate. Or find someone cute and little to shake or stir for you.
Store your dressing in the refrigerator and use it within a few days. I do not know the science behind this, but I generally don't let it go past two weeks. If you have a small family or don't eat salads often, cut the recipe in half or quarters if using fresh garlic.
Storing it in the frig will cause the oil to solidify, so plan ahead and set it out for thirty minutes, or run it under hot water for a couple minutes. Sometimes I cheat and leave it out, but you didn't hear that from me.
Caution: fresh garlic stored in oil can result in botulism, so, regardless of what I do, store yours in the refrigerator and use within a few days if using fresh garlic. Still, vinegar is used as a preservative for garlic, so…there's that. Use your common sense and don't mix up enough to last an age unless you use garlic powder instead of fresh garlic.
Enjoy!
Here's the printable version:

Italian Salad Dressing
Author:
Christy, The Simple Homemaker
Ingredients
½ cup white wine vinegar
1 cup extra virgin olive oil
1 tsp basil
¼ tsp oregano
3-6 cloves minced garlic (may substitute ½-1 teaspoon garlic powder)
½-1 tsp salt (start with less and add more if desired)
½ tsp onion powder
Instructions
Combine. Shake before serving.
Store it in the refrigerator.
If you need it sweeter, add the sweetener of your choice in ¼ teaspoon increments, tasting between each.
What do you think? Simple, isn't it? Do you make your own homemade salad dressing? If not, what's stopping you?
Special thanks to my daughter Hannah of Horse-Crazy Bookworm for the photography, hair-styling, and food presentation, and thanks also to my little mixer and taster.  
Linked to Nomday Monday.
Disclosure: some of the links in this post are affiliate links. If you buy something from Amazon through my affiliate links, they give me some of their profits (ain't that sweet!) and I buy olive oil and make more salad dressing. It's all for a good cause.