Christmas Card Chaos – Why We Go Insane and 10 Alternatives to the Insanity
Christmas Card Chaos – Why We Go Insane and 10 Alternatives to the Insanity
This is a long-ish read, so feel free to click through to the section you want. The Christmas Card Chaos Alternatives are at the bottom. But you'll be missing some good stuff…or at least some stuff. Lottsa stuff.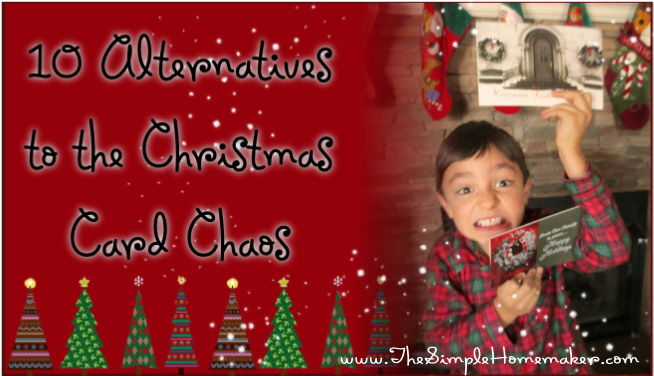 I love Christmas cards. If you put chocolate on one end of a balance scale and Christmas cards on the other, chocolate would win, but it would be really close.
As much as I love receiving Christmas cards, I like sending them even better. That's why this confession may surprise you. I stopped sending formal Christmas cards 7 Christmases ago.
My Family's Christmas Card History
I used to totally get into Christmas cards, newsletters, and photos. I enjoyed the creative process, but not the stress and time involved. So what happened?
I was expecting my fifth baby around Christmas 2005, homeschooling, unpacking from our second move in a year, and prepping for extended-stay houseguests. Plus, I was suffering from anxiety-related ailments. Something had to give. It was a close call between ousting our guests or the Christmas cards, but in the end I dumped the cards. It was the right decision…according to my houseguests.
The next year, it occurred to me that I had been investing a disproportionate chunk of time perfecting cards for people I hardly knew anymore at the expense of my family and health. Sure, the relationships had been priorities at one time, but the children pulling at my skirt were priorities right now.
My Philosophical Assessment on the Christmas Card Insanity (In other words, why?)
Why do we do that? Why do we expend time, stress, and money every December to paint our family at its better-than-best, however distorted that image may be?
Perhaps we want the world to believe we have it together because maybe, just maybe, that will validate our efforts and struggles and downplay the failures we might feel are unique to us.
We might also feel that our very real and messy lives need to measure up to the images implied in the perfect family photos and elaborate cards, which I sometimes feel are posted online only to make us moms without capes or halos feel less than adequate.
A Little Reminder About Reality Versus the Internet
Nobody's Christmas cards include pictures of mommy moods, toddler-tantrums, teen scowls, and scorched suppers, but that doesn't mean they don't happen…often while trying to capture that perfect family photo, ironically. And nobody rolls out of bed looking like that Photoshopped beauty on the card. (That's why bloggers don't blog on live TV. Plus it's boring watching people type.)
Reality and the Internet don't always often mesh. Remember that.
A New Philosophy on Christmas Cards (It's genius…okay maybe it's just common sense.)
We still like giving cards, but we've taken it down a notch or five. Here's how.
1) We no longer have a card list as long as Elastigirl's arm. We keep it down to a few special people, such as grandparents. Just because I'm someone's friend on Facebook does not qualify that person for a spot on the Christmas card list. Sorry!
2) Perfection is not a goal. Enjoying the process together is.
3) If it gets to be too much, we stop, even if we've done everything but put a stamp on 'em.

10 Alternatives to the Christmas Card Chaos
Here are some of the tactics we've employed over the years to keep it reasonable and fun.
1) Last year, my firstborn made and sent Christmas cards as the family ambassador.
2) I've replaced December weekly homeschool letter writing assignments with card writing. Six kids of writing, drawing, or scribbling age plus mom over four weeks, that's 28 Christmas cards. Not bad.
3) I purchase discounted cards after Christmas for my kids to use as thank you notes. It's sort of like a holiday card…only with gratitude. Who doesn't love gratitude!
4) We have occasionally resorted to the Merry Christmas email. It doesn't have the same impact that an in-your-hand stamped piece of mail does, and I don't like to do it, but then I remember my priorities. Plus it keeps the brown hairs brown a little longer and doesn't tax the budget.
5) Online card companies have great deals this time of year, sometimes sending personalized cards on your behalf for a ridiculously reasonable fee. (Don't ask me how they stay in business.) I jump on the freebie offers, like this one for ten free personalized cards from VistaPrint this week, because I'm cheap like that. (See the bottom of this post for a giveaway.)
6) My favorite approach is to cover our table with craft supplies for a week (dinner on a blanket on the floor, anyone?), and let the kids go crazy. We then sign our names to whatever hasn't been permanently glued to the table or wall, stick it in an envelope, and mail it…sometimes in March. It's fun, and, more importantly, we are spending that time together.
7) We haven't set foot in a photo studio in years, because I've determined it's inhumane. My husband hates it. My kids hate it. And I don't like the real tears and fake smiles. We opt for personality over perfection. When we want a family photo for cards, we set up the camera at home, get a dozen shots, and call it good enough. Sometimes we use a picture someone else took of our family. Sometimes we don't send pictures at all. (If they want to know what we look like, they can visit, for Pete's sake.)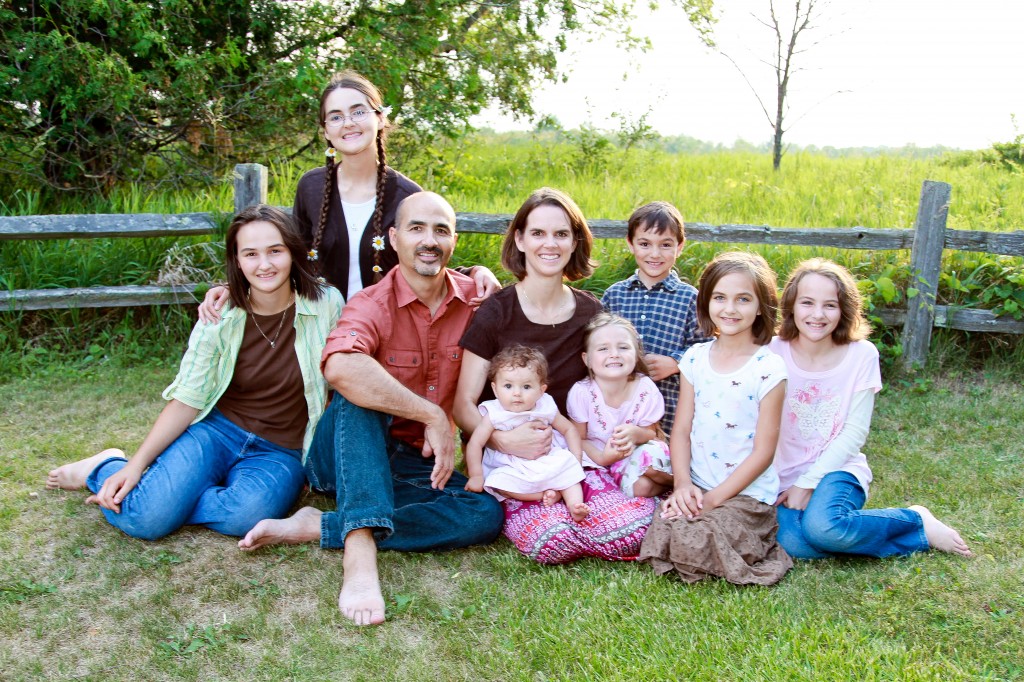 8) Instead of writing out cards, we'll make a phone call. Any willing children can say "hi," or I'll kick up my feet (actually I pace) and chat for half an hour. I'll mention that we're not doing Christmas cards this year, but I still wanted to connect. I don't actually say "connect," though, because that sounds kinda like I'm trying to sell insurance.
9) Rather than sending cards to who-knows-who just to show off our amazing kids, we take a look around. Can we use cards to serve others, putting a smile on a lonely person's face? That was sort of rhetorical.
10) Last year the kids helped write a family newsletter. They drew names and wrote about the sibling whose name they drew. We never finished the newsletter, but we sure had fun not getting it done!
Our (After) Christmas Card Plan This Year
I'd love to create a Christmas card DVD with a slideshow of our year set to my husband's music. It would include the year's highlights, as well as the major fails that keep us real. I'd edit in clips of my children singing and reciting Christmas greetings, and an off-the-cuff, Hollywood caliber reenactment of the Christmas story, with a cameo appearance by Tom Selleck as Angel Gabriel.
That's the plan I formulate in my head before I get out of bed. Then I open my eyes and realize I still live in reality, so I scrap the whole idea and embrace simplicity…and sanity.
My real plan is a little different. Because I have to make a few big announcements to people that I would otherwise have to contact individually, I opted to do a simple newsletter. The children will write about themselves, I'll handle the updates, and my artistic daughter can illustrate it so we can print in black and white and use less ink than photos would. Plus then my artist can make me look ravishingly young and leave out the grey hair. (What's that I said about keeping it real?) Whether or not that will get out by Christmas is yet to be determined–okay, it won't. But that's okay. There's something special and unexpected about an after-Christmas card.
A laid-back approach to cards, a shortened recipient list, and willing family participation make card-giving a low-stress family affair. Okay, I'll admit it's even fun!
A Final Word on Christmas Card Competitiveness
I'd love to see a turn-around in America where moms stop trying to outdo each other and instead encourage each other on this shared journey of parenthood. Trying to make ourselves look better than others not only makes them feel insecure, but it makes them try to outdo us, which, if they succeed, will make us feel insecure and necessitate our having to ramp it up next year. Do we really want to go there?
If you have people in your life who feel like it's a competition to outdo one another, let them win! Their cards may appear better than yours (and more expensive and time-consuming), but while they were slaving over cards, you were making sugar cookies with your kids and chatting on the phone with your favorite Grandma. So…who really wins?
Here are some thoughts from other moms and me via NYC journalist Jacoba Urist.
And here is a giveaway of some of those online cards I told you about! Low entries–great prize! Check it out over at Authentic Simplicity.
Last, but not least, here are ten free cards from VistaPrint through December 14.
What's your approach to Christmas cards?