Christmas Past
As a child growing up, Christmas was the same every year.  We had our Christmas Eve program, dinner buffet at Grandpa's farm, presents under the tree Christmas morning, cookies for breakfast, church, and back to Grandma and Grandpa's for Christmas dinner.  The same routine, the same 27 varieties of cookies on my mother's cookie platter, the same people.  It was predictable, it was tradition, and I loved every minute of it.

Christmas Present
My man and I have been married for 15 years.  My mathematical prowess tells me that we have therefore been celebrating Christmas together as a family of varying sizes for 15 years.  As a new bride, I rapidly learned that you cannot merely transplant your own family's traditions, however enjoyable, into your new family.  Consequently, we developed numerous family traditions of our own, some through default and some through a conscientious effort to keep Christ as the focus of our holidays and lives, to keep it simple, and to make valuable memories for our children (and ourselves).
Christ-Centered Christmas
Hal and Melanie Young, whom you may know as the authors of Raising Real Men: Surviving, Training and Appreciating Boys (review coming soon), recently authored an ebook delving into this very topic.  Their book is aptly titled Christ-Centered Christmas: The Ultimate Guide to Celebrating a Christmas Your Family Will Never Forget.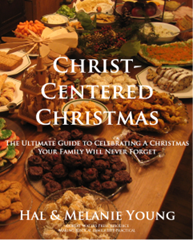 Christ-Centered Christmas shares many of the Young family's traditions as well as the thoughts behind them.  The authors touch on all aspects of the season, from Advent and decorating, to Epiphany and taking the decorations down, and, of course, everything in between.  Throughout the book they share ways to reduce stress and increase the real joy of the season.  Every part of the Young family's Christmas season holds traditions that point toward the true meaning of the holiday, and they open their hearts and homes to readers to share those precious moments.
What will you find in Christ-Centered Christmas?
history behind some common Christmas traditions—loved this!
directions for some homemade decorations
treasured family recipes you definitely want to try
Advent ideas
the true Christmas story and related prophecies
the Young family's caroling traditions and full carols
baking organization tips that I will definitely be using this year
Christmas Eve traditions, including a menu and recipes
recipes for sweets
an open and non-judgmental discussion on Santa
gift-giving thoughts and ideas
Christmas day menu and recipes
end-of-season festivities that we will implement this year
and more ways to make your Christmas stress-free and Christ-centered
The Youngs don't merely share their family traditions, but go one step further by showing how you can implement similar traditions in your own home.  They also reveal how you, too, can use all aspects of your Christmas celebration to point toward Christ, encouraging you to give your celebration purpose and everlasting value.
If you have no real traditions and routines at Christmas, you can start with some of the Young Family traditions, menus, recipes, and ideas, and gradually adapt them to your family.  Although I have thoughtfully been implementing traditions of our own for over a decade, I still picked up some great ideas I hope to add to this year's celebration, not to mention a terrific fruitcake recipe.
Did She Say "Terrific Fruitcake?"
"Mommy, thank you! This is really, really good.  I love it!"
So said my eleven-year-old after eating the fruitcake made from the Young's recipe in Christ-Centered Christmas.
Technicality alert: My husband, who also loved it, claims it's not "real" fruitcake, because it wasn't soaked in liquor and aged for thirty years…which may or may not be a generous paraphrase.  Plus it didn't make me gag like the last time I had fruitcake. I suppose he's right, but it's cake and it has fruit in it.  Cake plus fruit…cakefruit…fruitcake!  All technicalities aside, it's delicious, so I'm happy!
If you are interested in purchasing Christ-Centered Christmas, the Youngs are offering their new book at an introductory price of $6 this week. Click here to learn more about their book, to read other reader reviews, or to purchase.  Follow the Youngs on Facebook as Raising Real Men and check out their blog for more encouragement.
TSHM disclaimer…or lack thereof: I am not an affiliate of the Youngs, nor do I receive anything if you purchase from their site.  I believe in their ministry, am very much in agreement with their philosophy, and appreciate their products. They did give me a free copy of Christ-Centered Christmas to review (Thank you!), but that did not influence my opinion.  The fruitcake recipe, on the other hand, did influence my opinion! Did I mention how tasty it is?  Now I'm off to try one of their cookie recipes.