There are toys, and then there are toys!  Toys! are really great toys for really great kids.  Because keeping the clutter down to a minimum is important at The Simple Home, we tend to limit ourselves to toys!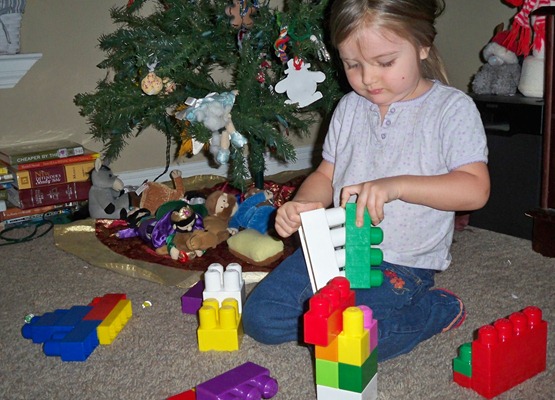 For a toy to fall into the toys! category and thereby be TSHM-approved (That's "The Simple Homemaker approved."  Yup, I've got my own approval rating system.  Sweet, isn't it?), it must:
offer endless hours of constructive play.
stimulate the imagination or other sometimes sleepy corners of the mind.
be useful for more than one activity.  For example, while an electronic race track is totally cool and I love 'em, all you can do is race, so it doesn't fit the bill…even though I have one.
not need batteries…ever! No plugs either. Or solar!
offer quiet constructive play possibilities (as well as the loud destructive stuff) so they can play during read-alouds or other times when their quiet presence is required, but they do not need to be still.
be fun for them to play alone.
be fun for me (or siblings, Daddy, uncles, second cousins once removed) to join in, because sometimes little voices ask, "Mama, will you play with me?" and Mama always tries to say, "Of course!"
fit into a tub for easy storage in the garage.
Check out these terrific constructive toys!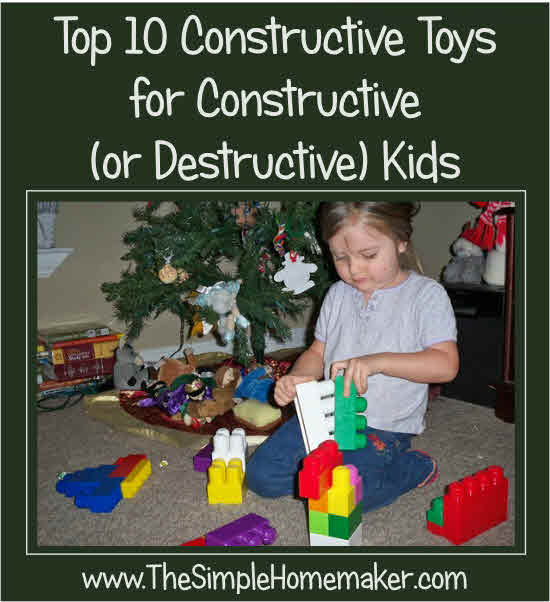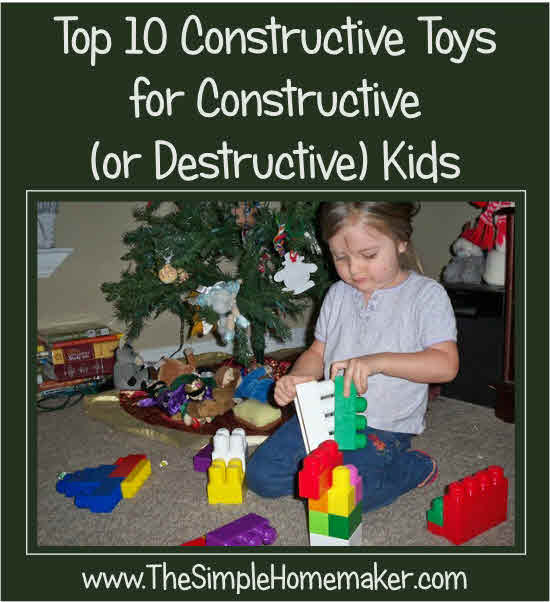 My Top 10 Constructive Toys
Magneatos: Magneatos are neato and my children l-o-v-e them!  They are giant plastic-encased metal balls and sticks with magnetic ends.  That's it!  The rest is up to you…uh, your children, I mean, because they will naturally be the ones playing with them.  Ahem.  The manufacturer now makes curved Magneatos, which make this fantastic building toy even neato-er.  I want some!  I mean…the kids…you know.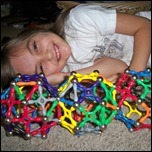 Magnetix: This small version of Magneatos is also neato.  It is, however, a serious choking hazard, as are many great toys for the older set.  Nevertheless, it offers unlimited (well, I suppose eventually there would be a limit) options for design and construction.
Wedgits: Ooooo, I get all giddy just thinking about Wedgits!  A set of Wedgits will provide you with numerous rhombus shapes as well as a few diamonds for constructing whatever you want.  Wedgits cards are also available, which is a fun way to improve a child's observation and duplication skills.  There are many expansion kits, including Wedgits on Wheels, although the wheels are tricky for the younger set, so our Wedgits generally remain stationery…and are then bombed. Wedgits are seriously awesome.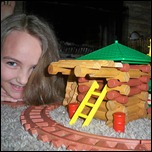 Lincoln Logs: Well, of course! This is the constructive toy of all constructive toys! Build, play, bomb, rebuild.  Lincoln Logs offer endless hours of fun!  And somehow, it always gets us talking about Abraham Lincoln, so that officially classifies them as educational.  Don't settle for imitations; they don't mesh well with the real thing.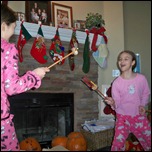 Tinker Toys: Do you remember these sticks and wheels from when you were a child?  The vintage Tinker Toys were smaller and more durable than the current versions, making the new and old sets incompatible.  If you have your heart set on the Tinker Toys of your youth, search out some vintage Tinks from Ebay, garage sales, thrift stores, or Freecycle.org.  If you're looking for a new set, keep in mind that the smaller sets stocked on some store shelves are pretty puny, so opt for the bigger sets available online.  While I find the modern version inferior to the oldies, my children still have fun with them.  We used to make the most awesome space rovers and then, when my grandparents weren't looking, we would launch them from…oh, never mind.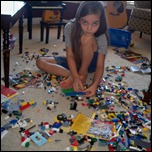 Legos: Oh boy!  Be still my heart!  I remember when a bucket of Legos meant a world of imagination.  Now, Lego tends more toward (expensive) sets, telling your children how and what to build.  If at all possible, find a new or garage sale version of a big ol' bucket of mismatched Legos and let your child have at 'em.  Later you can move on to the sets, if you like, which, in all honesty, my whole family thinks are totally fun…but we don't confine ourselves to the directions.  Either way, Legos are awesome…during the day.  At night, the errant Lego you step on en route to the facility is totally lacking in awesomeness.  (Lego.com has a VIP program giving you points for purchasing from them, but I almost invariably find better deals elsewhere.)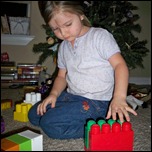 Duplos: Legos on steroids.  I love Duplos.  They don't hurt as much when you step on them, they are only a choking hazard for a very large and determined dog, and they offer hours of constructive play.  My children like them, too, both the bucket o' blocks and the farm sets.
Blocks: A big bucket of plain old blocks is a miracle waiting to happen.  Add a little collection of cars or some people, and you've got a world.  If your children are still at the throwing-things-at-each-other's-heads-is-funny stage, opt for soft blocks.  (You could also try making your own blocks; TSHM absolves herself of all responsibility if you cut off your fingers!)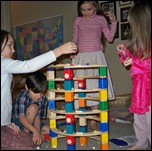 Quadrilla: The point of this set of blocks, marbles, and ramps that your children assemble is to get the ball from point A at the top of the set-up to point B, probably the floor.  Sound easy?  Ha ha!  It requires logical thought and sometimes a bit of trial and error (or the instruction booklet). I highly recommend a Quadrilla set to the non-choking-hazard crowd with one stipulation—ignore the manufacturer's age recommendations. It is absolutely wonderful for the older set, perhaps seven and up, but not necessarily the fours and fives. The littles will love it once it's set up or enjoy playing with a few pieces, but will easily knock it over and will likely be unable to build the more fascinating set-ups on their own.  Some sets are designed for younglings.
Dirt: It's free, it's messy, it's everything a normal, well-adjusted child is drawn to.  Just add water and you've got dirt's close cousin, mud, which is a perfect constructive toy—nice and sticky!  With a few sticks and a hose, you've got an afternoon of fun they'll remember forever!  Dirt can be packaged as a Christmas gift, but I recommend dehydrating mud before wrapping.  If you have a lack of dirt, clean less often, or buy some online.
What are your favorite constructive toys?
Coming soon: TSHM-approved Toys! for imaginative play.
TSHM-approved disclosure statement: Some of these links lead to Amazon.  You are not obligated to purchase through my Amazon links—how on earth would I enforce that anyway? If you do make a purchase after following these links, I will receive a small commission.  You may rest assured that I will not spend it on toys…okay, maybe some Wedgits.