We've all been there. It's a deal too good to pass up. Sure, you don't neeeeeed another jacket/outfit/book/purse/project/cat/boardgame/ebook, but it's just so functional/chic/educational/cute/darling/pathetic/fun/helpful that it's too good to pass up.
Is it really?
How do you know if something is really too good to pass up? The following seven introspective questions will help you decide that for yourself.
As an example I will use the current Ultimate Bundle, which is all the rage on the blogosphere. How do you know if it's worth it to spend $29.97 on $1034 worth of ebooks and bonuses? Wowzers, Lady, that sounds too good to pass up. I know…but is it really?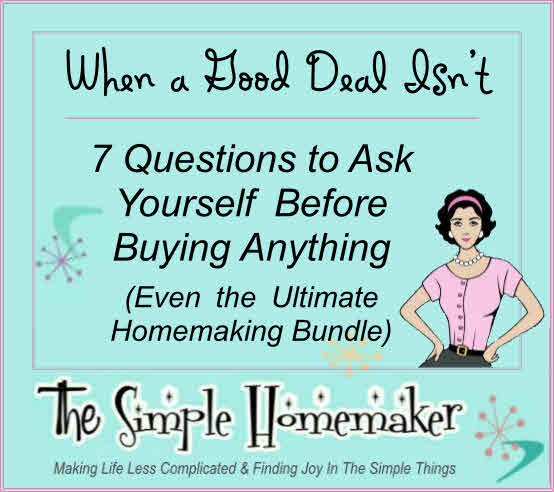 To find out if you should jump on a good deal or tell it to pound sand, ask yourself these seven questions:
1. Will you use it?
If you have 50 unread ebooks waiting around for you, and you really don't read ebooks or haven't tapped in to the last three amazing offers you jumped on, what makes you think this one will be any better? Be honest with yourself. (I bought because I can garner further tips to share with you and my children, and because some will make great gifts.)
2. Will it be clutter?
Is there a place for what you want to buy? Yes, the ebooks are electronic and won't take up any actual shelf space, but they can become electronic clutter. If you are not going to use them or give them away, they will sit on your device or "cloud" taking up space. (I will explain how to organize ebooks in an upcoming post.)
3. Is it in the budget?
If you're dipping into the food budget for money to spend on the next great deal, you should shell out $5 for From Debtor to Better and learn how to manage your money. Anything that causes you to overspend is not a good deal, even if it's "only" 31 cents a book.
4. Can you make money off of it or use it as a gift…and will you?
If you intend to give away many of the ebooks for wedding showers, baby showers, Mother's Day, birthdays, or Christmas, that's great! If you want to use them as giveaways on your blog or even sell them, that's terrific. BUT–and that's a big but–will you? You know your track record. Are your somedays piling up so high that it would take your great grandchildren to finish up the list? If so, don't add another someday to the pile.
5. Do you need it?
I'm not saying you're not allowed to buy anything except oxygen, a couple hydrogens, and some food. But ask yourself if each purchase will benefit your family in both the short term and the long run. In the case of the ebook bundle, if you are actively trying to learn to be a healthier mama or a better home manager, this is a fantastic purchase. If you don't give a rat's patootie about homemaking, why are you even reading my blog?
6. Will it trump your family?
Don't bring anything into your life that will rob your family of time together, space, and money. In the case of the ultimate ebook collection, if you are a disciplined reader and read for half an hour in the morning and at night while the kids are in bed, great! If you want it as a research resource for when you need it in the future, that's super savvy of you! Go for it! If you find yourself neglecting your duties and family while staring at your Kindle, not so great.
7. Do you have one just like it?
How many ebooks about losing weight, eating real foods, or surviving pregnancy do you need? How many church dresses does your preschooler need? How many pairs of shoes do you need? How many purses do you need? How many toys does your dog need? How much stuff do you need? Get it? Good.
But, Christy, it's just too good to pass up.
Is it more important to you to spend money on yet another _______, and have to store another ________, and have to take care of another ________, than to save that space, money, and time for your family?
I don't intend to make you feel guilty every time you spend money, but you should be aware and conscientious. Every time money goes out of your home and stuff comes into your home because of a deal too good to pass up, you are increasing the amount of time your spouse or you spend working to earn the money, and increasing the amount of time you or your spouse spends cleaning, maintaining, storing, or otherwise managing more stuff.
If you don't need it, have no space for it, can't afford it, don't have time to manage it, won't use, or it will distract you, than it is not a good deal. Period.
In the case of the ultimate ebook collection, I earn a nice commission off every purchase, money I use to fund my homeschool. Naturally, I like it when someone buys through my link, 'cuz that means I can buy math books! BUT–and that's an even bigger but than the last one--I don't want anyone buying just because it's a good deal, because if you don't have the space, time, or money, then a good deal simply isn't. Plus spending money on something that will only result in physical (or electronic) clutter and financial complexity goes against everything I stand for here at The Simple Homemaker!
So…if you've read this and with a good conscience can buy that jacket/outfit/book/purse/project/ cat/boardgame or super awesome ebook collection, then go for it! (And do use my ebook collection link if you don't mind.) But if not, please walk away and be content with what you have, because chances are you have enough. After all, to quote Mary Poppins, who is practically perfect in every way and therefore must know, "Enough is as good as a feast."