I love pie. In fact, I have deemed 2016 the year of the pie, and we are choosing a pie each month to bake; there's a homemade peach pie waiting for us for breakfast.
I should say that it's waiting for my family, not for me. I'm not eating pie. And this is why:
I'm on the Total Elimination Diet, which heretofore shall be affectionately termed TED. TED and I are old pals. This is my third time hanging with TED at every meal. It isn't that TED and I are particularly fond of each other. I think TED likes me better than I like TED. Still, we hang out; it's a relationship of necessity.
Why hang with TED?
Four of my eight children have had digestive issues as nursing babies. With my firstborn, I did not have the support, knowledge, or confidence to know what to do, nor was the internet a resource at the time. With my fourth, seventh, and eighth, however, I had long given up on support and opted to take matters into my own hands. We do have a pediatrician and pediatric allergist on our team with our current baby, but TED is in my hands.
What digestive issues did they have?
It varied–colic, bloody stools, mucous in the diapers, diarrhea, extreme fussiness, abnormal behavioral issues, neon green leprechaun poo–you know, the usual.
What is TED?
TED is a diet that helps pinpoint potential allergens or irritants in the mother's diet that may be affecting the baby by eliminating almost everything from the diet and gradually adding foods back in one at a time.
Why TED?
Most doctor recommend giving up dairy and soy, but I had given up far more than and not seen much improvement, if any. I didn't want to wait weeks testing this and that while his little system continued to be inflamed. So I buddied up with TED. (TED's a bully, just FYI.)
How does TED work?
Step 1. Take everything out of the diet except for the least allergenic foods. Those are (in America) turkey, lamb, summer squash, zucchini, pears, rice, sweet potatoes, white potatoes, and salt and pepper. (I could not do lamb, pepper, or white potatoes.) After 2-3 weeks all other foods should be clear of Mama's system and mostly clear of baby's system as well. I give everything more time.
Step 2. Add something back in. For me it was carrots. Then I got all googly-eyed over green beans. Adding squash was like a party in my mouth.
Step 3. Wait 3-4 days (I also go long) to see if there is a reaction in baby (or Mom).
Step 4. If there is a reaction, take that food back out and bump it back down the list a ways to try again in the future. If there is no reaction, add it to the food rotation and return to step 2.
Step 5. Record everything. I write down what and when I eat, my baby's reactions and reaction times, and how I'm feeling. For my baby, I include on a scale of 0-10 his diaper color, mucus levels, blood, smell, rashes, and other info. I also record his skin reactions on his face, his mood, and his spit-up and drool levels. It's work, but I want to know what keeps that plump little tummy happy and those rotund thighs getting rotunder…if that's a word.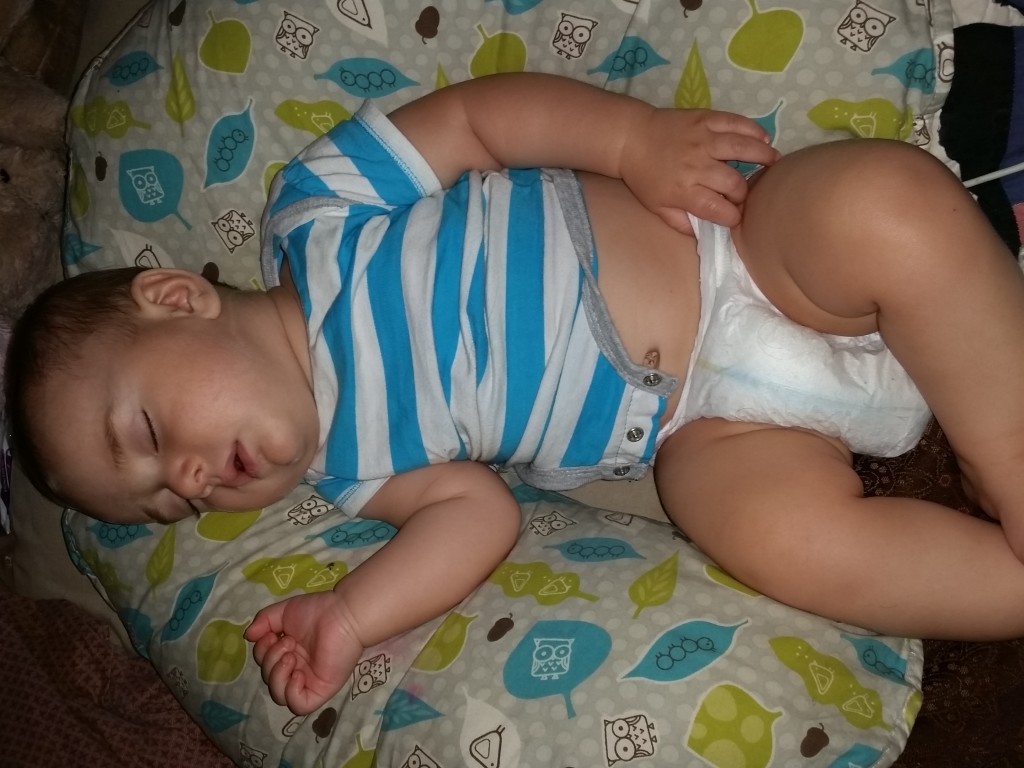 What are the results so far?
I've been hanging with TED since my baby was 7 weeks, so five months at this point. While the diapers are still not perfect, I have noticed the following:
less frequent bloody diapers–almost none, in fact
better consistency of stool
fewer facial rashes
fewer foul stools (although we're currently in a bout of them, so I have to check my records and see what the trigger is…although I think I know)
less gas
less drool
less throwing up…although he did throw up on his sister's head and in her shoes today–again, something is amiss and I think I know what it is
far less mucus
fewer diarrhea diapers–almost none, actually
I didn't see an overnight change in behavior like with our seventh baby who was colicky. Baby number 8 never had behavioral issues–he's just plain happy. What a blessing! But the lack of a sudden change does make it harder to know what's bothering his round little tummy. If you're considering TED for colic, you will most likely see much faster results and reactions. 
Also, my joints, which are generally achy, feel much better…even good some days. Now that's an interesting side effect.
This is a slow, tedious process, but it is the fastest way to lose baby fat I've ever experienced! Also, it isn't completely accurate, but many doctors say it's the best approach we have. Many other say to put him on formula.
What about supplements?
I am not taking supplements right now, because they caused reactions in my previous baby. I will, however, be taking pancreatic enzymes soon, since they have been known to help break down improperly digested proteins that may be getting into my milk. First I would like to find a doctor willing to test my pancreatic enzyme levels to see if it's my system that's on the fritz.
Isn't TED lonely?
Yes and no. We have a daughter with Crohn's who is on a healing diet herself, so we're accustomed to the lonely life…and we're lonely together. Occasionally we both miss something that everyone else enjoys, like a special treat at a church or local fare on our travels, but it's for healing, so it's okay. It's okay.
In all honesty, we have a very social lifestyle as traveling music missionaries, and that involves a lot of food. We are often invited to events or dinner at someone's home. Some people are very, very kind and intentionally prepare something we can eat. Most people don't, which is completely fine, as we can always bring along our own food or stay home. If we do go along, however, and end up staying extra long (like at family visits), we get very hungry if the food we brought runs out. That's not fun.
And in all honesty, when the rare special someone goes that extra mile for these two smiling faces below, it feels amazing!
Why not opt for formula?
Gut health is very important in our family. Crohn's disease is an incurable auto-immune disorder that attacks the intestines, and a balanced gut is important in keeping that in check. It's got a genetic link (my grandmother had rheumatoid arthritis, which is related to Crohn's), and is showing up in children more often and at younger ages, especially in our modernized society. I breastfeed my babies as long as I can partly because we love the bonding and partly to give them the best possible chance at strong intestinal health.
Also, if I learn now which foods bother him, I'll have a better idea which foods to introduce as he starts solids.
Do I judge anyone who chooses the formula route over TED? Absolutely not!  I wonder almost daily if I should go the (expensive hypoallergenic elemental) formula route, if it would be easier to know what was bothering my baby's tummy, if I'm just being a stubborn ol' cuss because I'm too lazy to get up at night to make a bottle…which I am, if he's allergic to me to the extent that I'm doing more harm than good by nursing him. I don't know. I can't know.
I'm not saying I'm doing the right thing. I'm saying I don't know. I do know that I'm doing the best I know how.
I also know that I will once again be going a couple years without cookies and pie while nursing my current little cutie pie…but that's okay, because cutie pie really is the best kind of pie. Don't you think so?
If you are considering an elimination diet, if your baby is colicky or has mama-heart-wrenching diapers, or if you are just curious, please ask your questions in the comment section below. I will answer them as soon as I see them…which is soon. I am not a doctor…just a mama and a boo-boo kisser, but I've been there. Have I ever been there!
UPDATE (6/21/16): Judah is now 10 months old. He still hasn't grown out of his issues, although he has improved. He is eating some solids, but very few, and only those which I eat. He mostly eats green beans, avocado, and carrots, although he has sampled many more foods than that…some accidentally. Ahem. He will be doing fine for a while, and then backslide. At that point, I backtrack, and he improves. It's not always easy; it's rarely fun; it's always worth it to see his smiling face and clear skin. The allergist says he should grow out of it. We'll see!
Save
Save
Save