I love decorating for special occasions, but I don't like spending money on it. I don't want to spend hundreds of dollars on holiday décor that I will forever worry that my children will mess up. Can I have an Amen? Little louder next time, please.
AMEN!
Thank you.
In my opinion, humble though it is, Thanksgiving is one of the easiest holidays to decorate for, if–and that's a great big imposing if like this:
IF
–if you keep it simple.
Here are some simple ideas for decorating for Thanksgiving:
Decorate with produce.
Set apples, pears, and pomegranates in a large glass or ceramic bowl, in a trifle dish, or on a raised cake platter. Fill a glass bowl with cranberries and set a candle in a slimmer glass container inside. After the event, eat them. Eat them all! Or make pie. Mmmm…pie.  There is no finer food.
Here's an old photo (forgive the quality) of a centerpiece we threw together a few years ago. We hollowed out some of the apples to use as candle holders. (Don't eat those.) We added some pine cones, a pillar candle, and fake leaves and berries (you could use real leaves and cranberries). It was quite charming and made entirely from what we had on hand. (I see a pecan pie in the background. Mmmm…pie.)
Decorate with nature.
We live in the desert, and bringing in a cactus or two isn't very festive this time of year. Leaves, on the other hand, are beautiful. If you have fall leaves, bring them in, press them under a book, preserve them with modge podge, spray veneer, or laminate.  Pinecones are also lovely. Fill a basket with pine cones and maybe some wooden beads. (Pinterest will hook you up, if you need ideas. Run a Pinterest search for leaf or pinecone crafts.)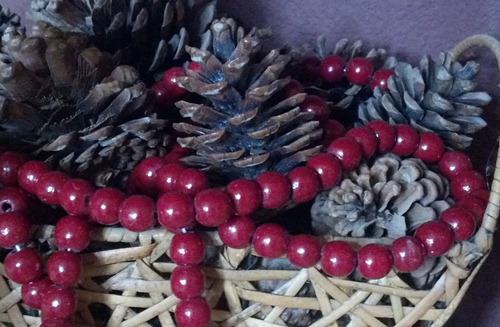 Nature is beautiful. You really can't do better, so why not bring it indoors. God didn't copyright his work, so go ahead and use it; just remember to give credit where credit is due.
Let the kids work their magic.
There is a certain charm in a home decorated with handprint turkeys, a child-personalized napkin ring set, thumbprint place cards, a paper table cloth the kids decorate as they're waiting for the turkey, and other works of art! Save them (not the table cloth) and set them out year after year to see how the littles have grown into middles and biggles. You may want to skip that last part if the reminder of the rapid passing of years makes you cry into the pie. (Mmmm…pie.)
Add something handmade each year.
Try a simple (I said SIMPLE) project, like this one that took my four-year-old 15 minutes and which used materials we had in the house.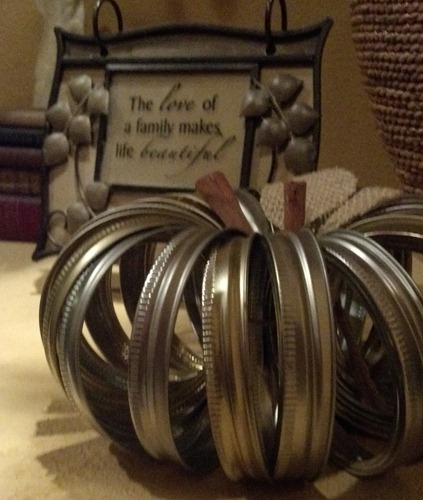 Isn't that cute? Learn how to make it here.
Browse some other simple, yet beautiful ideas on my Thanksgiving board on Pinterest.
Decorating for Thanksgiving can be simple, cheap, and charming…but only if you remember the big IF…and have pie.
What are some simple ways you decorate for Thanksgiving?
And a more important question:
Are you serving pie?