Please know that I was given a free year's access to the digital pack for level Delta from Demme Learning's Math-U-See in exchange for my and my son's fair and unbiased review. (We did buy the student books with our own money…not stolen money.) This is indeed a fair and unbiased review. As you know, I can be swayed with cookies, but rest easy, reader friends–my son is a man of integrity. Stand strong, Boy!
Over the past 15 years of homeschooling, we have had six children use Demme Learning's Math-U-See, and number seven is on the horizon.
We are big Math-U-See fans, and this is why:
I am a disorganized, inconsistent, unstructured mess of a mama sometimes. But that's okay…I mean, for math, because Mr. Demme teaches my kids (and me) on video. If I don't get out of bed for three months, they can still progress in their math. (That would be super boring for me, although I'd get a lot of reading done.)
As the name implies, the students can see not only how to do math, but why they do what they do. The manipulatives are part of that, as is Mr. Demme's break-down of the process.
Each level ensures mastery before moving to another topic.
Each lesson reviews previous skills.
There is no drill and kill–math should not be fatal.
Recently Demme Learning came out with their digital packs. Instead of a physical teacher's guide and a DVD, you have access to video streaming, digital manipulatives, the lesson summary, and the solutions all online for one year.
So instead of my son Elijah's Delta level Math-U-See supplies looking like this: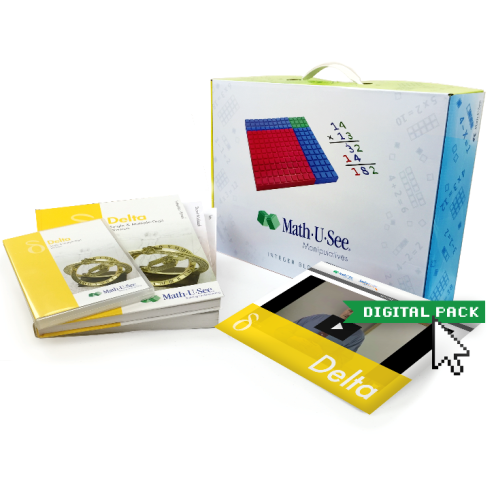 …he has this: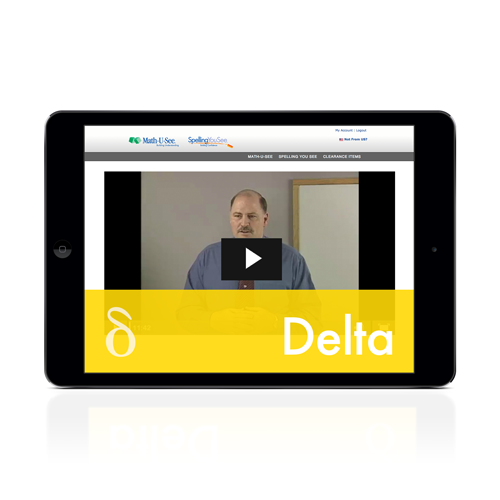 Phenomenal cosmic math concepts…itty bitty living space.
Here's what I love about the digital packs:
My son does not need to be sitting in front of the television. If we are in the van, he can watch his math video on the library Kindle Fire. He loves that he doesn't need to wait for his turn with the DVD player. My husband loves that the math lesson can be a little quieter than when it's on the tele.
Second, the digital streaming doesn't get scratched, broken, lost, left in Arizona and not discovered until we're in Colorado, stepped on, or need to be put away.
Third, last year I had six students in Math-U-See. (We graduated two last summer.) That was a lot of teacher's books, I tell ya! They took up a lot of space that could have been used for literature or history–my favorite subjects. (Do you remember we live in a trailer?)
Fourth, the digital packs aren't ever going to be outdated. There isn't an older version and a newer version; you never wonder if your student text will line up with the teacher's guide. It's all good.
Fifth, you don't have to wait for shipping–you finish, you re-order, you click a few times and you're on the next level, which is a pretty big deal for me, the perpetual procrastinator…or percrastinator. Re-ordering is as easy as pi. That was a little math joke there. 
Sixth, the work is still done on paper. There's just something about paper and pencil that makes me happy…that and cookies and pie with an e.
Here's what I don't love about the digital packs:
I have eight students, and, quite honestly, I don't want to be buying access year after year. I can't pass them down, and I am totally into hand-me-downs.
I'm old school. I don't like staring at screens; it messes with my eyes and makes me miss nature. I just want a book already. But you know what? My son is across-the-board-school. He likes screens and books, so, while I am a middle-aged, change-resistant Lutheran, he is totally hip to the digital version and even prefers it. 
Additional thoughts for my fellow roadschoolers:
The ongoing space issue:
We have been traveling for four years with our enormous bucket of Math-U-See blocks. It's not enormous in a house, but in a 30-foot Passport travel trailer, anything bigger than a two-slot toaster is outrageous. The manipulative solution Demme Learning offers online is far and away more space-saving than the box of blocks. 
I (the old-school, change-resistant Lutheran), of course, prefer the blocks to the digital version, because I am not a fan of learning curves anymore and I like to hold things in my hands…like cookies and pie and babies. My son prefers the physical blocks as well. But here's the thing–when he turns the computer off, the blocks are put away. You think Legos hurt on a trip to the bathroom at night? Try stepping on math manipulatives! Old school or not, those babies hurt.
Also, whine though I might about the learning curve, there's a quick and easy manipulatives demo on the digital access page, so take that fellow Lutherans. We can handle change…maybe.
The ongoing internet issue:
As with all online curricula, there is the issue of internet connection. The digital packs do require you to stream videos, which we can only do when we have a strong internet connection or enough data left at the end of the month. (Yeah, we data budget.) My son has been flying through his lessons, so he's been watching a video every day or two, but when he gets to the harder lessons, it will be more like once a week or so, making the access issue less significant.
The online manipulatives are not a big data hog, so he can use them for his assignments and practice whenever we are connected with no issue…although I think he may have recreated the Danish attacks on Wessex last week instead of working on his division. As with all online activity, supervise supervise supervise. Of course, he can also do his assignments without the manipulatives if there is no connection at all.
An unexpected bonus:
Just an aside, when he doesn't have a connection, he tries to figure out the lesson himself, and then watches the video later. He owns the subject more when he struggles to think it through instead of being guided. It's a Japanese concept that works with some of my kids. Of course, sometimes he ends up watching two or three videos at a time this way when we're connected, but whoop diddly do, right?
Go here to read reviews from homeschoolers who fall a little closer to "normal" on the normalcy spectrum than we do: