Sixteen years ago I was in labor with my firstborn on New Year's Eve and gave birth to a very loud, but beautiful New Year's baby. Every New Year's Eve since has paled in comparison. Still, we try to send off the old year with a bang, so this is what we do.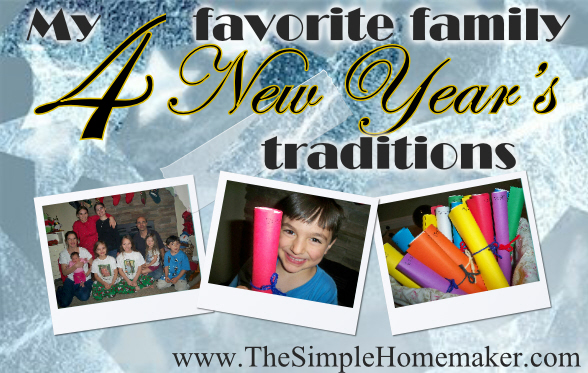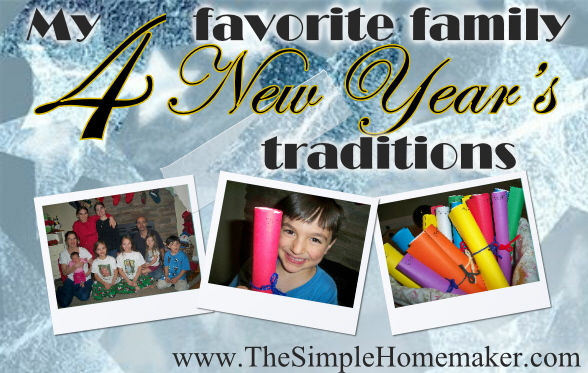 Every New Year's Eve we have a family party. I schedule different simple activities for different times throughout the evening (as well as massive amounts of food to keep Mama awake). I write each activity on a note and place it in a paper bag or envelope, or roll it up like a scroll. I indicate the time it should be opened either by writing the time on the note or bag, or by attaching a paper clock showing the time. Throughout the night, we open the bags or unroll the notes and eat the cookies enjoy the activity. Over the years, these four have become my favorite: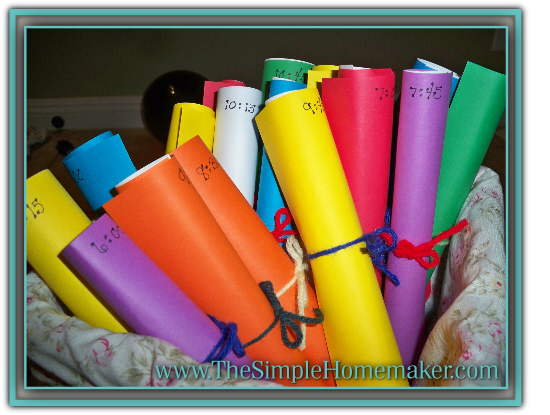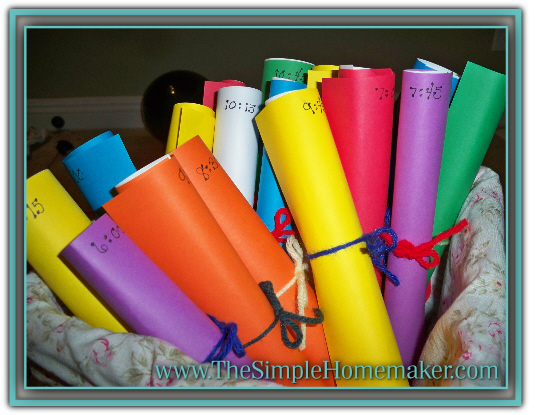 Out With the Old
We each write down something we do not want to repeat in the new year. It's generally a bad habit or negative personality trait, although one year my young, less-than-coordinated son wrote "I don't want to fall next year." More introspective children (or mamas) may write things like impatience, disrespect, or laziness. Sharing our work is optional. We toss the notes in the fireplace and say a prayer as we watch our old habits burn up. It doesn't miraculously take our bad habits away (Rats!), but it does make us conscious of a need to grow in that area. And it makes a neat little bonfire–who doesn't love fire! Okay, Smokey the Bear, maybe, but besides him.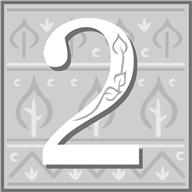 Time Capsule
Each year we toss something into our family time capsule, a five gallon bucket with a lid which we decorated as one year's activity. It doesn't matter what it is–a lonely sock from a favorite pair, a photo, a card from a relative, a lost tooth. Someone tried to talk me into saving the baby's umbilical cord last year, but I don't think that made it in. We may or may not jot down a note about the significance of the item…like the sock. On New Year's Eve we sort through the contents and add more.
  Predictions and Memories.
I print out a worksheet for each family member to record predictions for the upcoming year, and a second for recording memories from the previous year. We read predictions from the year before and laugh over them. Sometimes we're amazed at how close our guesses came to reality. We save all the papers inside our time capsule, although a binder would work just as well.
If you wish to do this, the printable sheets we use are here.
  Come as You Are Family Photo
We take a quick annual family photo in which nobody gets dressed up (or dressed, in some cases). Some people are in PJs, some in holey jeans or aprons, some in ballerina outfits or cowboy hats. It's a true-to-life, just-as-we-are, someday-we'll-look-back-and-laugh family photo, complete with some random portion of the dog in the shot.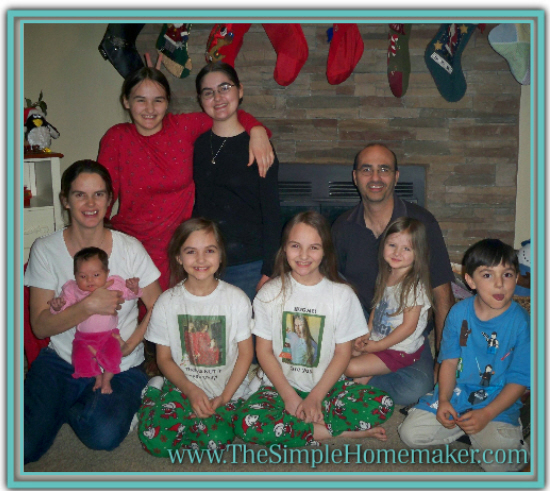 (No, I don't have a gold tooth, no, I have not slept in 16 years, and no, they are not twins. Did I miss anything? Oh, yes, there is only one boy.)
For more fun and simple New Year's Eve ideas, read this idea-filled post from last year.
If you're on Pinterest, visit my New Year's board.
What are your favorite family New Year's traditions?