There are a few things we've used in our homeschooling from the dawn of time (our homeschooling time, that is). Apologia is one of our mainstays. To be a mainstay for my family, you have to be fantastic, because I am a member of SGA–Second Guessers Anonymous. And Apologia, in our book, is fantastic–no second guessing there!
They sent us Exploring Creation with Human Anatomy and Physiology for the purpose of this review, and to totally educate our elementary and middle school kiddos on the fine workings of the human body.
They sent us the following:
Textbook
Notebooking Journal
Junior Notebooking Journal
MP3 Audio CD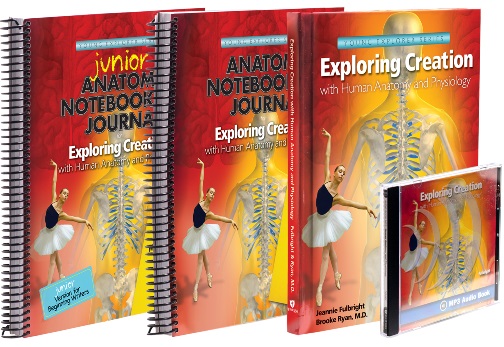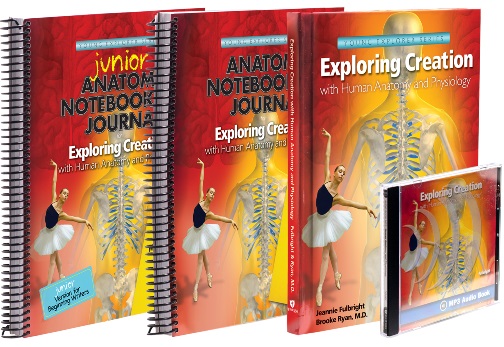 The components of the course.
The textbook is broken up into 14 lessons covering each of the main body systems, as well as an introduction to anatomy and physiology, a chapter on the senses, a chapter on growth and development, and a chapter on health and nutrition.
As is the case with all the Apologia Young Explorers books, they approach science in a Charlotte Mason style, which is ideal for us. Each chapter is broken up into short sections. There are pauses encouraging students to retell what they've learned (narrations) or to answer a few questions.
Each chapter also includes lab activities. The supplies can mostly be found at home, but you can also order a supplement including all the objects you will need for the activities organized according to chapter and activity.
A personal person project runs throughout the course. Your student builds a body adding each system as the student learns about it.
Because Apologia is an apologetics course, there are also Creator-focused sections such as Why Did God Create Me in Growth and Development, Creation Confirmation in the Digestive and Renal System, and Our Faithful Father in Immune and Lymphatic Systems.
The textbook is officially the only item you need to complete this course, making it budget friendly.
There is also an mp3 audio disc available. The recording is professional and easy to listen to. It includes the textbook read by Jeannie Fulbright, the author herself. (She's an interesting person, so look her up on social media!)
Two notebooking journals are sold separately also. They are not necessary, but they are extremely helpful. There is a junior notebook which is recommended for kindergarten through second or third grade, and then another for third or fourth on up. Both are consumable and meant for one student. They contain copywork, coloring pages, puzzles, notebook pages, and lab record forms, among other things. Your child will use it for his personal person, his experiments, note-taking, making little bookslets, and refreshing his memory on all the wonderful things he's learned.
A note about the immersion method.
The Apologia approach to science at the elementary and middle school levels is immersion. If you want to understand more about that, watch this video. They explain it better than I do. What I can tell you is how well the immersion method has worked for my family.
We have gone through most of the Apologia Young Explorer science courses, and my children come out of them with a thorough understanding of, interest in, and appreciation of the subject they studied for the year. I find it far superior to the little-bit-of-everything approach to science I grew up with, which doesn't give you the opportunity to completely fall in love with a subject. I guess it doesn't give you the chance to totally hate it either. Ha.
What did we do?
As with all the Apologia Young Explorer texts we use, I read aloud from the textbook to my current students, and usually someone younger who hangs around for the fun and the intriguing photos throughout the book. I may read an entire section (maybe 15 minutes max), but usually I read for no more than 5-7 minutes so that everything can sink in and I can hold the kids' attention. (I have a kindergartener in the mix.)
I ask the questions when they pop up and will often ask for narrations on shorter sections. I almost always ask for a narration the next day as a review. We do this four or five days a week.
I do not use the audio disc because, first of all, it doesn't play in our van, which is where we do our science readings–on our drives. Secondly, while the reading only takes 5-7 minutes, we discuss quite a bit as we go, often smack dab in the middle of a paragraph. That would be a little less natural with an audio recording, although the discussion could take place at the breaks. I also improvise as I read a bit, because it's what I do–it certainly isn't necessary, because the text is highly readable. Honestly, if the disc played in our van, I would probably use it.
As far as the experiments are concerned, we did not buy the supplement package due to budgeting and storage. (Remember, we live in a travel trailer–all ten of us.) We do some of the labs and experiments, but not all of them. We pick those which would help us understand the project best and use supplies we have on hand, like this mummifying experiment that the girls did on their own from chapter 1.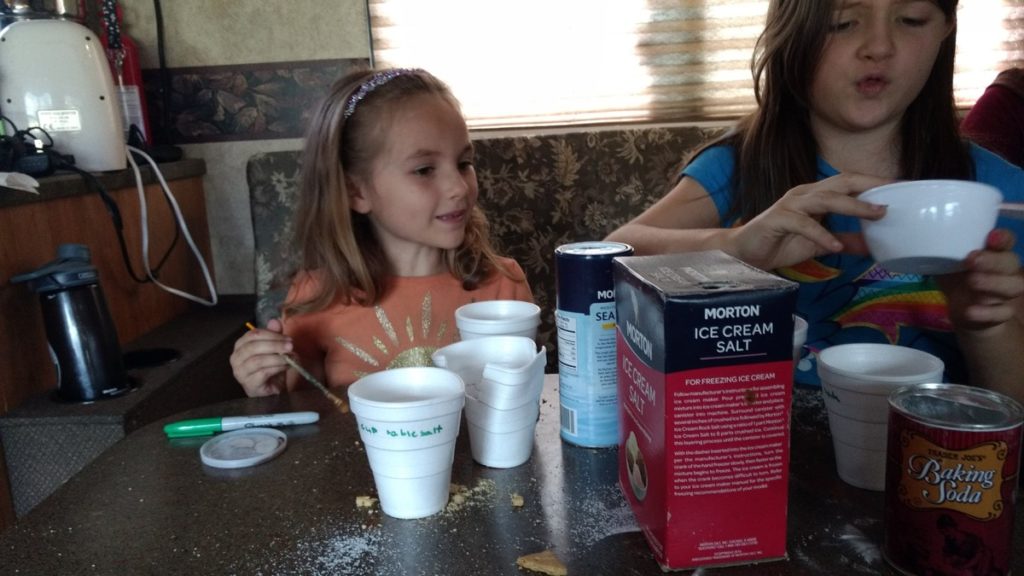 Well, maybe not quite as on their own as they would have liked.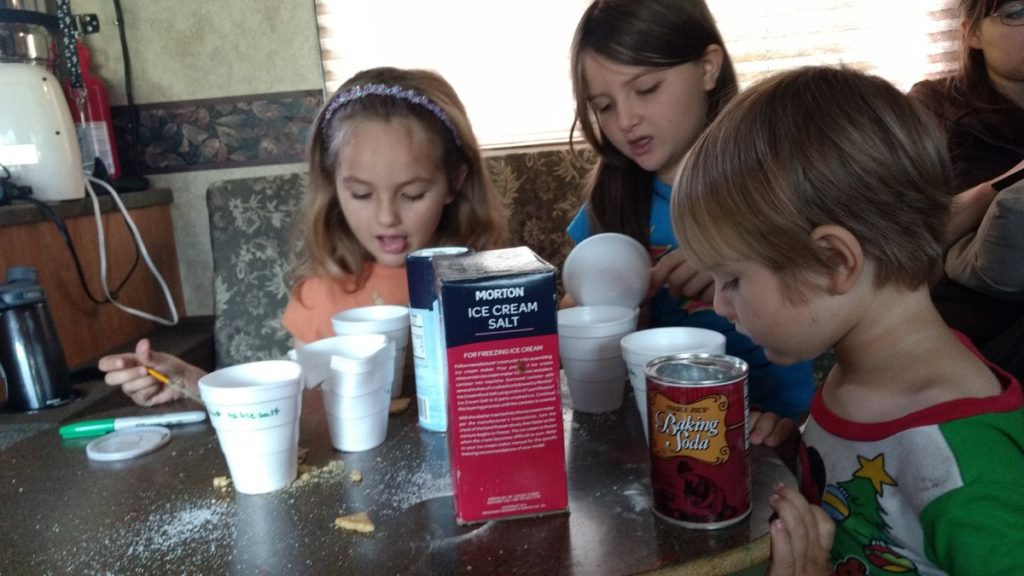 Two-year-old assistants are exciting.
If we can't do an experiment due to time, driving, or supplies, we have no problem going back and performing an experiment from a previous lesson when the supplies are available. It's a great review.
We've also been known to get creative about supplies. For example, Elijah made this heart from chapter 8, and the only appropriate ingredient he had were the graham crackers.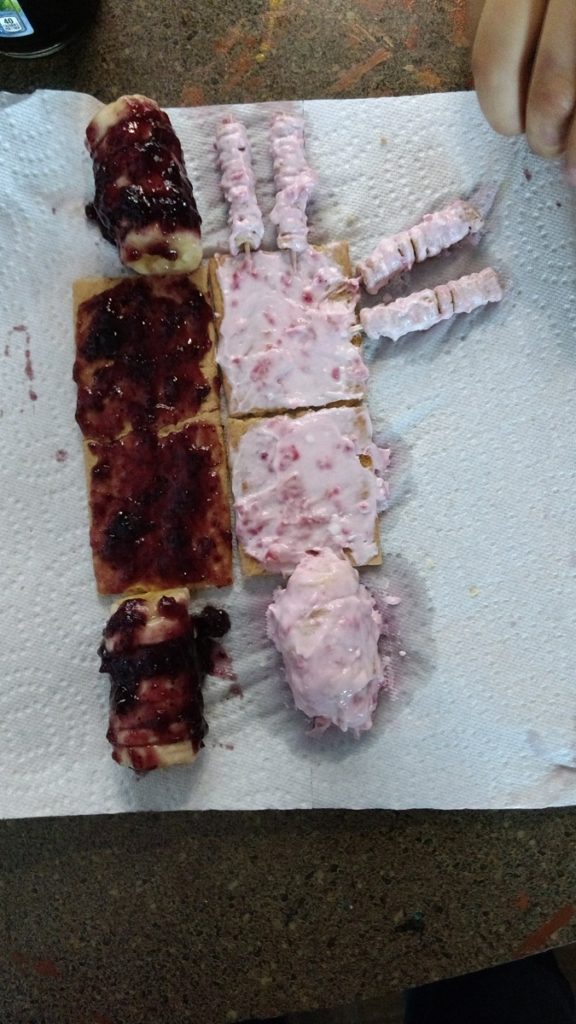 That's totally a heart!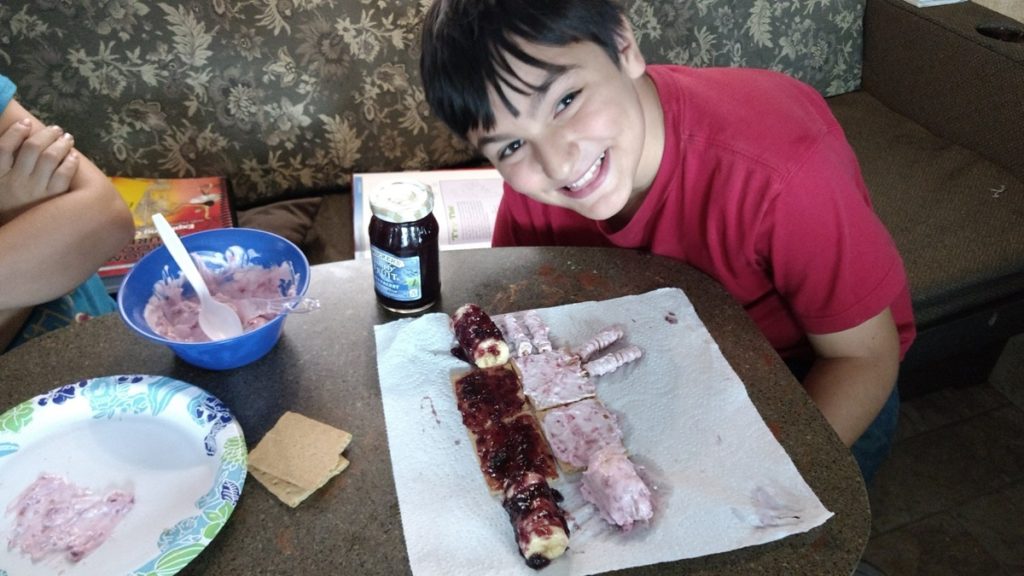 The experiments definitely add to the program and aren't burdensome, so I recommend doing at least one or two per chapter if not all of them.
My readers (third and sixth grade) are able to perform the majority of the experiments without help. My kindergartener is capable of being actively involved, but needs help with the reading and reaching things. She's still tiny.
My third and sixth graders are using the regular journals. The third grader was originally going to use the junior journal, but decided it was a little too simple. She's right on the border, so we purchased a regular journal. My kindergartener is using the junior journal, but it's really too advanced for her. Basically, she dictates to me some of what she has learned and illustrates it. She also does the copywork and coloring. If you do get them, each child needs her own.
Again, the journals are not essential for the course, so if finances are an issue, don't let the journal costs keep you from using the course. They do, however, add significantly to the course in my opinion. I like that the reading age kids can follow the guidelines within the journal and I don't have to guide them through anything. Technically, they could read the textbook and do the labs and the notebooks entirely on their own, but I feel the benefit immensely from the discussion we have.

Just some thoughts on age.
We move more slowly than recommended through the course because we have a kindergartener in the mix. Otherwise, the recommended pace of two weeks per lesson is quite reasonable.
While I include all ages of my elementary school kids in my Apologia science studies, I would not begin with Anatomy and Physiology if my oldest was under, say, third grade. This is one of the more difficult topics, despite how well it is all explained. It seems easier for my littlest kids to grasp the concepts in astronomy and even botany. Still, I wouldn't hesitate for a moment to include the younger set when I'm teaching this to older students. Just don't expect them to grasp it all, and be ready to repeat it when they're older. and can easily be completed in one full school year of solid learning.
 In summary
This is our second time working through Apologia Anatomy and Physiology. It is a program that strongly prepared our previous set of children for their high school level biology and other science studies, also through Apologia. Highly recommended–all 20 thumbs (and four paws) way way up.
You probably want to know what other people think about. You can read other Crew reviews right here or click on the banner below: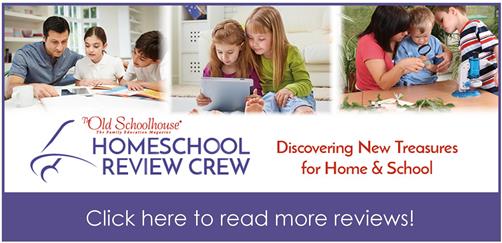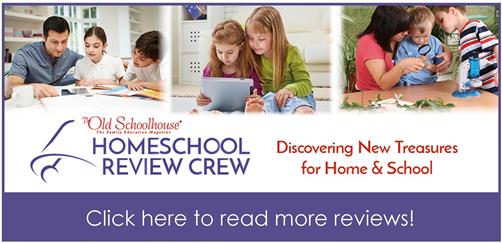 Connect with Apologia on social media: