April showers bring May flowers, as they say…whoever they are. Even in our desert, the spring rains bring with them a burst of opportunistic flowers known (un)affectionately as "those blasted weeds." And so starts allergy season.
Not being allergy sufferers, most of my littles and I look forward to the rain and flowers. (Honestly, people, don't little ones make everything, even rain, just a bit more exciting!) This spring, however, we were a bit on the extreme side as we stared at the sky, hunting for little black rainclouds. You see, Dayspring sent us this gorgeous umbrella to review: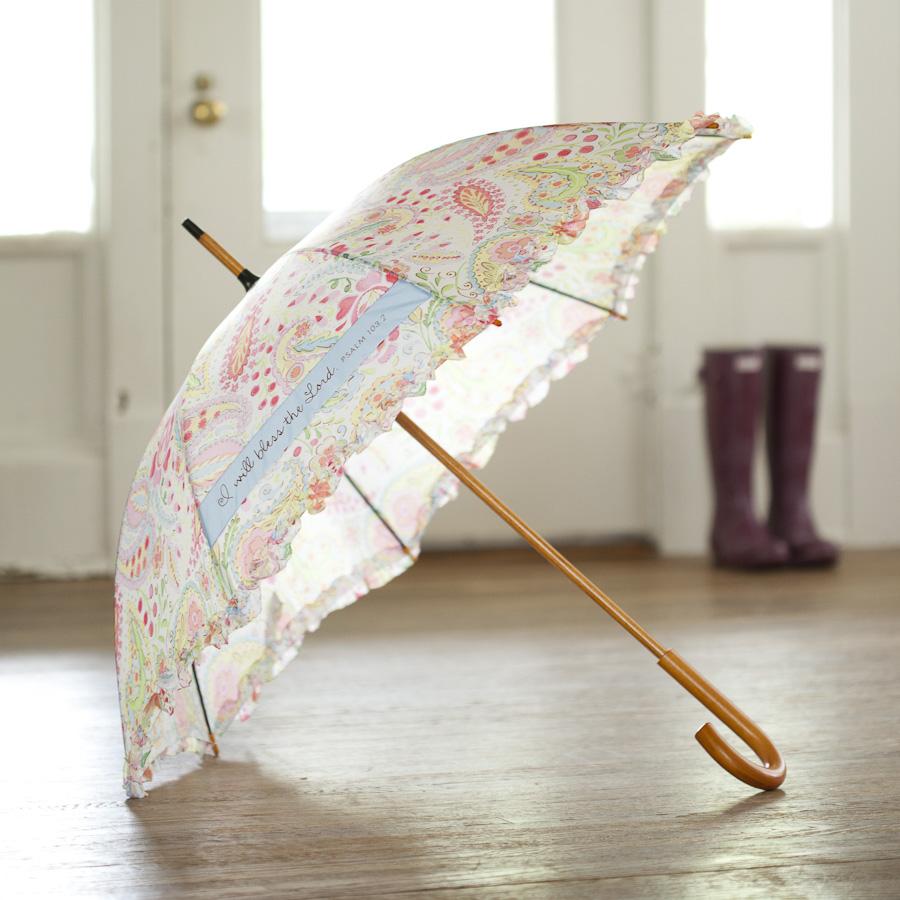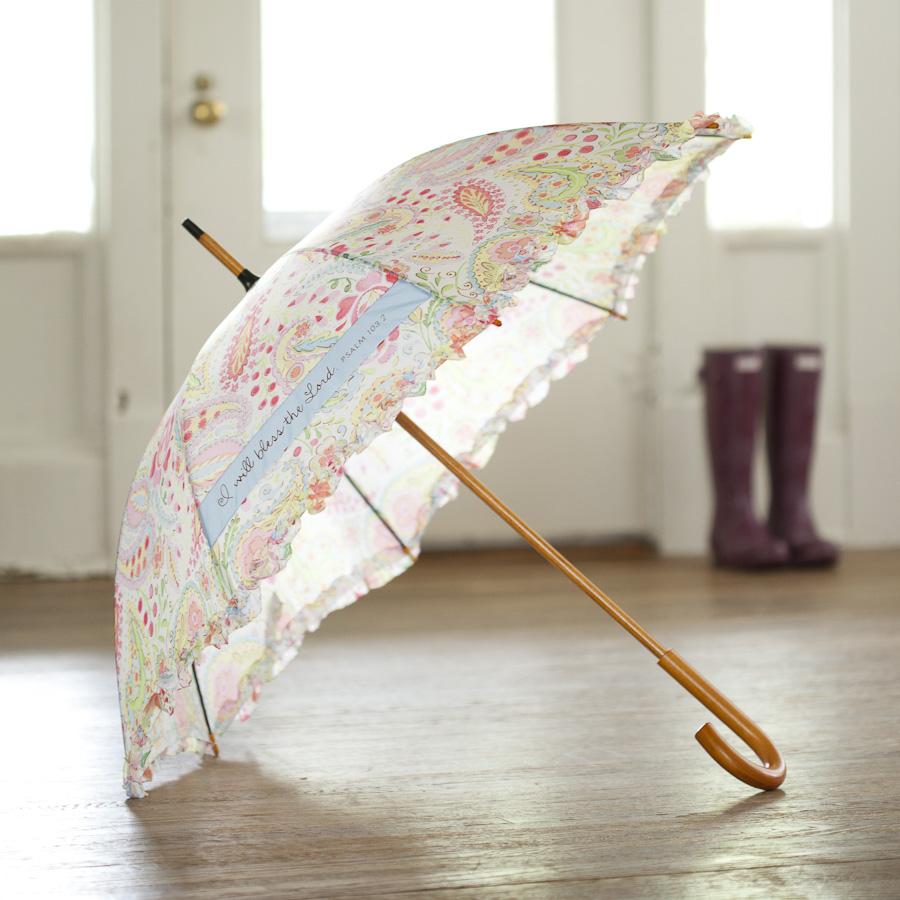 We were like children waiting for Christmas as we enthusiastically waited for rain…
and waited…
and waited…
but it didn't rain. It hailed once, but the umbrella was in the van and we were not. Bummer.
(Meanwhile, my accident-prone second daughter opened the umbrella in the house about 100 times, which, as you may know, is 700 years bad luck, give or take a decade…and then she fell down the stairs…three times. Coincidence? I don't think so.)
So…what do we awesome-umbrella-toting desert dwellers do with our awesome umbrellas when it doesn't rain? Block the sun of course!
Like this:
Three-year-old not included.
Dayspring didn't just send us a rainy day umbrella. They also sent a beautiful mug for warming up on chilly spring mornings. The mug is equally as charming as the umbrella. It reads "He fills my life with good things!" from Psalm 103:5.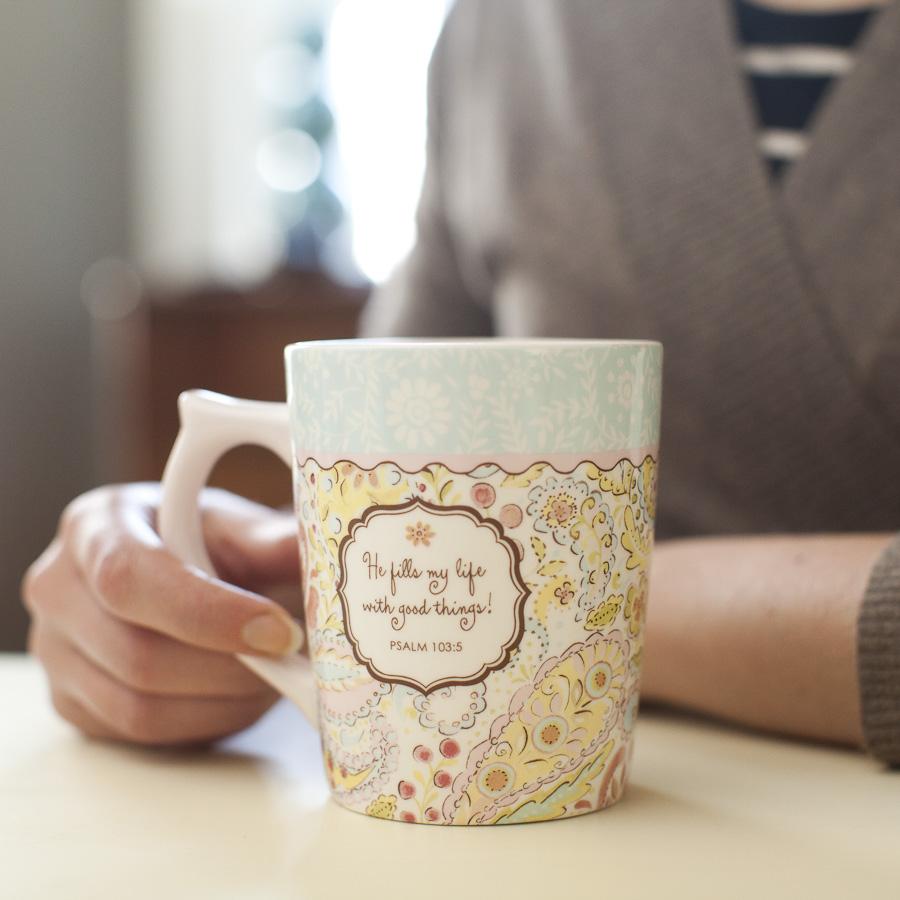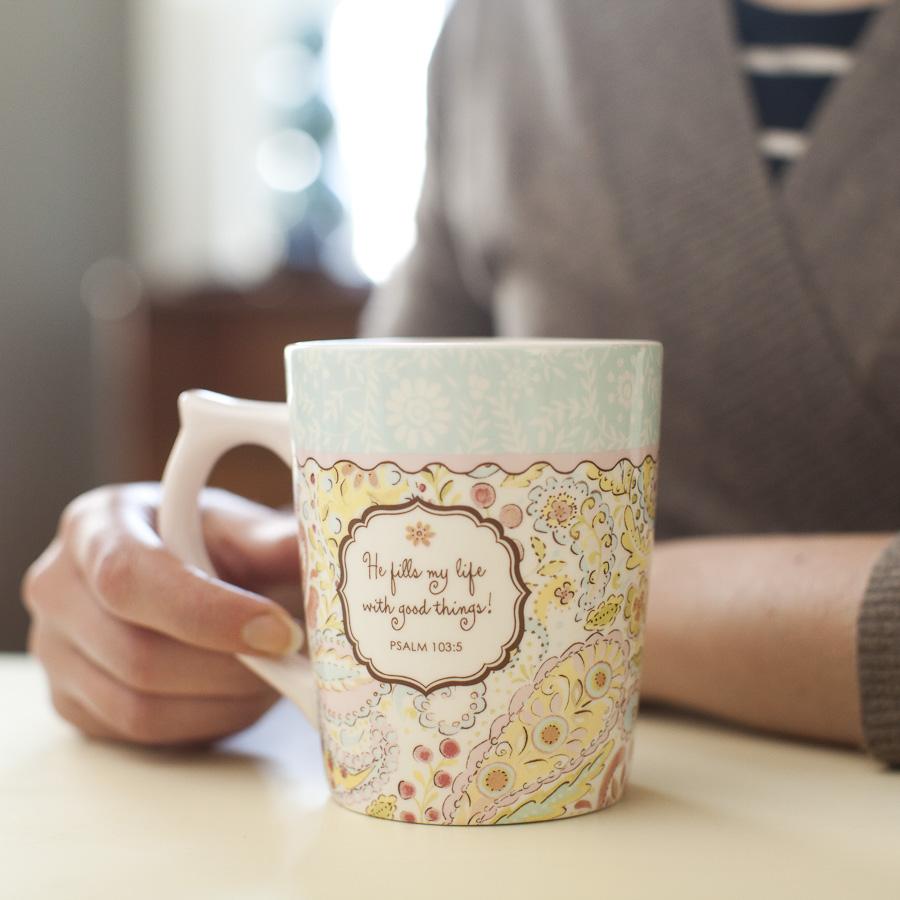 And to prove its point, it showcases this little good thing inside: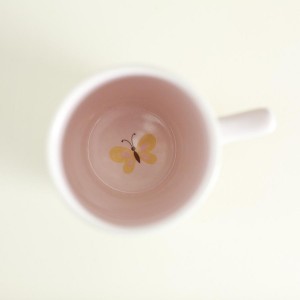 Can you picture yourself walking home from the market with your darling daughter in a light rain, and sitting down together to mugs of tea or cocoa as you warm up from your spring showers? It's all very Norman Rockwell, isn't it? Okay, more than likely you'll forget your umbrella at home, step in an ankle-deep puddle, trip over a scooter, get chased by a dog, and drop the bag of groceries with the eggs in it by the time you get halfway to the house, and your soaked daughter will catch the sniffles. When you finally get in, you'll realize you're completely out of tea, cocoa, and coffee, which is why you went shopping in the first place, so your mug will also go unused. But you will still have enjoyed a mother-daughter adventure, and the mug and umbrella are still a beautiful combo with a heart-warming, soul-stirring message, and would make an excellent gift.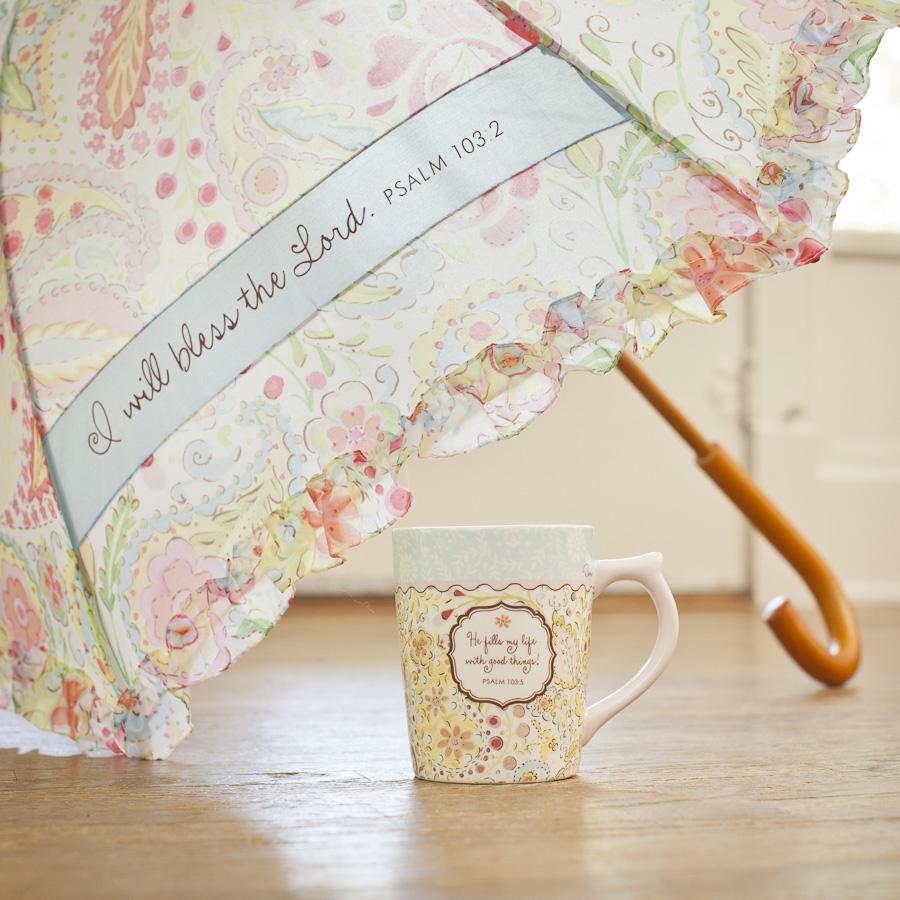 Win the umbrella and mug.
Would you like to win your own Dena Designs Good Things mug and umbrella set? My daughter Hannah from Horse Crazy Bookworm and I are teaming up to run this Dayspring-sponsored giveaway. Enter today (or my second-born just might send you some of her bad luck)!
By the way, it did eventually rain while we were on our travels, and we did use the umbrella, and it worked like a…well…like an umbrella is supposed to actually. We endured some pretty strong winds with this beauty, and it held. Nevertheless, I don't think this umbrella would hold up in storms with ferocious winds…nor do I think you should be out in such a storm, with or without the umbrella.
Due to its large size, several of us could fit under it at once, which is a really big deal in a family of nine. There's nothing like a big umbrella and a rainy (or sunny) day to draw a family together!
In the spirit of full disclosure, I feel compelled to share the negatives. Because this is a large umbrella, we were hoping to try the Mary Poppins travel method—flying via umbrella–but it rather disappointed in that arena. (What?! You haven't seen Mary Poppins? It's one of those rare movies that is better than the book and is certainly a family favorite, but enough about that.)
Dayspring has beautiful products with lovely messages. Check out their online store.
Current Dayspring Specials
Buy any two beautiful Dayspring mugs, get the third free here.
Get free shipping on premium birthday cards here.
Receive 25% off select Thomas Kinkade boxed cards and a perpetual calendar here.
Save $20 on Bless This Home and Abide in Me wall art. Lovely reminders!
Enjoy 15% off any card purchase: graduation, confirmation, first communion, Father's Day, you name it! Use the code 15offCARDS here.
Disclosure Statements
Disclosure statements galore: Dayspring supplied the umbrella and mug for this review. They also are supplying the set for the winner. This in no way affected my opinion of the product. Would I have bought it anyway? Hello! I live in the desert. I do, however, very much appreciate having this beauty on our travels, and, were I to buy an umbrella, this may well be the one I would choose. I like it's cheerful classiness, complimented by the Scripture verse. In fact, I like most of the Dayspring products!
By the way, I am a Dayspring affiliate and will receive a small compensation for anything you purchase through these links. You are in no way obligated to purchase through my link, but there is that little unresolved issue of my daughter and her bad luck, which rumor has it is transferable. All proceeds, as usual, support our roadschooling as The Travel Bags.
Photo credit: product photos by Dayspring; cute three-year-old photo by Hannah Bagasao