This post contains affiliate links. They don't bite, so don't be afraid of them. If you purchase something through my affiliate link, I receive a portion of the proceeds at no additional cost to you. It's kinda like a great big thank you for my time.
Just as real books in the real world can cause a real big mess real fast, ebooks in the e-world can become e-clutter. They can get all jumbled up so you don't know what's what and can't find what you're looking for when you need it. Even e-clutter makes me shudder. Shudder. See?
Stocking up on useful-to-you ebooks allows you to create an amazing resource library, but it's a waste of time and money if you can't find them when you need them. That totally used to be me, but not anymore! Is that your dilemma?
Never fear! Librarian-Wanna-Be is here! I've got your back with my ultra-simple ebook organization method.
How To Organize Ebooks in 5 Simple Steps
Simple Step #1: Create a Folder for Your Library
Right click on your desktop.
Scroll down to "new" and click.
Scroll down to "folder" and click.
A folder will pop up on your desktop with the current name, "New Folder" highlighted. Type over "New Folder" and hit "enter" to give it a pretty name. I call mine "Christy," because that's a pretty name. 🙂 Not really; I call it "Library," because I always wanted a library. We will henceforth refer to it as "Library."
Double click on "Library" to open it up. You now have this image: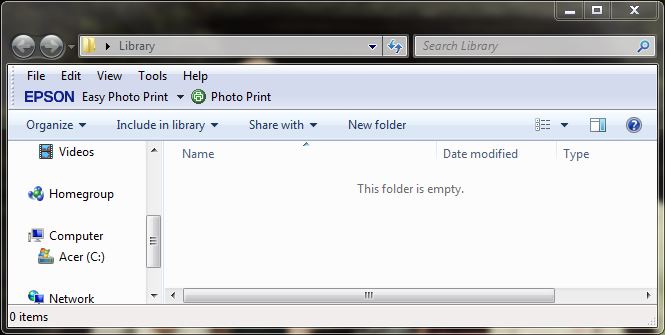 Because I share my computer with all my minions, I have my own "Christy" folder on my desktop. I created my "Library" folder within my "Christy" folder on my desktop. If you want your "Library" folder inside of your version of a "Christy" folder on your desktop or anywhere else, just drag and drop your newly created Library folder into your "Christy" folder, or create a "Library" subfolder by performing step 2 below inside your "Christy" folder. When I double click on "Christy," it opens up to the image below, where you can see my "Library" is located:
Simple Step #2: Create Subfolders Within Your Library
Either simply click "New Folder" in your open "Library" window and skip to 5, or follow the next three steps.
Right click anywhere within the Library window.
Scroll down to "new" and click.
Scroll down to "folder" and click. (Is this sounding redundant? Yawn.)
Type in a category for your books. Categorize by genre, topic, alphabet, whatever tickles your organizational fancy. I categorized by use, such as recipes, homeschooling, getting fit–that folder's dusty. (It's really called health and beauty…and it is dusty.)
Simple Step #3: Create Subfolders for Current Reads and Duplicates to Use as Gifts
Create a subfolder for books you're currently reading or that are on your immediate "Read This Now!" list. I began my "Current Reading List" or "Ahem! Read This Now!" folder with an "A" so it sat at the top of my other folders as a nagging reminder. Nag nag nag.

Create another subfolder for duplicate books or those that came as part of a bundle but which you don't want or need. This is important to keep down clutter. These can be used as gifts or as giveaways. (Learn how to give ebooks as gifts without breaking copyright laws or selling your soul.) I began my "Duplicates" or "Zany Gift Basket" folder with a "Z" so it was bumped to the bottom of my folder line-up where it's out of the way, but I'll know where to look for it.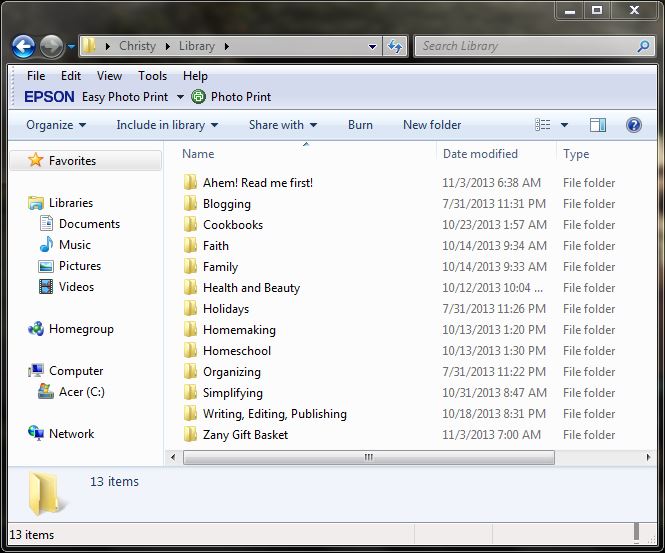 Simple Step #4: Create Subcategories Within Subfolders
Double click to open one of your topic folders, such as my "Homeschool" folder.
Repeat step 2 within that folder to create subcategories. These can go as deep as you want, although I've never actually tested that theory, nor will I. I do, after all, have a life and an extensive "Ahem! Read This Now!" folder calling my name.
 Simple Step #5
Locate your downloaded ebooks.
Right click on the ebook of your choice.
Scroll down to "cut" and click.
Locate and double click to open the folder of your choice in your "Library."
Right click in the window.
Scroll down to "paste" and click.
Alternatively, open the window where you currently store your ebooks and open the "Library" in a separate window. Drag and drop each book to its respective folder.
From now on, save each book to its respective folder. That's a good librarian.
Where do I get my ebooks for my ebook resource library?
I subscribe to four and soon-to-be only three newsletters that offer freebie alerts. Two are specific to my homeschooling approach, one is a generic homeschool site that I'm booting soon, and one is a general frugality site. I skim them quickly and am very selective about what I download.
I save freebies offered as newsletter subscription bonuses for sites I follow at one season of life or another. Eventually I unsubscribe if that blog overwhelms me or is no longer relevant to my life.
I receive them as gifts. Ebooks make great gifts. I talk about that here.
I occasionally buy a book specific to my homeschooling, homemaking, writing, or blogging needs, usually on sale.
I occasionally purchase a mega-bundle, mostly for the bonuses to be honest. Even if I'm only interested in 5 or 6, it's cheaper to buy the whole bundle than those few separately. The rest go in my "Zany Gift Basket" folder.
I keep my eye on the Bundle of the Week, 5 related books for $7.40. Usually I pass, because I don't like to spend too much money and I already have other books on the same topics, but sometimes I jump.
I write my own! Ha ha! Except I'm not joking. (If you're keen on that idea, check out From Idea to Ebook, an affordable course to help you write and market your own ebooks.)
Now get to organizing, and enjoy your library! Librarian-Wanna-Be signing out!
How do you organize your ebooks?