Today's guest writer is Leanne. I first met Leanne at a church in Florida where she was vacationing with her family. We then re-met in Wisconsin at her home church. To understand why she is posting here, you have to know that Leanne is fit and gorgeous. When she casually mentioned that she was 40, I said, "Give me your business card!" She did better than that. She shared her story for all of you.
Here is Leanne's story:
Make 2016 Your Healthiest Year Yet!
Happy 2016 to all of you! At the start of a new year most people have New Year's Resolutions. I've never been a person to have resolutions…I like to think of them more as intentions and goals. As a health and wellness coach, it warms my heart when I hear people say they want to eat healthier, exercise more, lose weight, quit smoking, etc.
My resolution (intention/goal) for 2016 is to help all of you make 2016 your healthiest year yet! Let me share a little bit about what I did to change my health just over two years ago.
For the past 14 years our family has tried to eat more organic/natural foods. By all means we are not perfect, but we certainly try our best. I still enjoy a night out for pizza, birthday cake to celebrate another year, and a dish of ice cream just because. For the first 12 of these 14 years I would typically put on around 10 or so pounds each summer, indulging in the "not so healthy choices" while watching my boys play ball. When school would start in the fall, I went into weight loss mode to lose those unwanted pounds before our Spring Break vacation in March. It would take me about 6 months of literally starving myself (even with healthy food choices) to lose that weight.
Fast forward to September 1, 2013…the day my health changed forever! My dear friend Kim introduced me to some amazing nutrition products that have changed my health in so many ways, and this was the day I started! Because our family stays away from foods with artificial sweeteners, soy protein, stimulants, MSG, just to name a few, I do my research on what I allow into our home. I did my homework on these products, and knew I needed to jump in with both feet!
Besides wanting to lose about 10 pounds, I also had a lot of digestion issues going on. I was beginning to think I had a gluten or dairy allergy. I also felt tired all the time and really didn't have a lot of energy. Several times a week I would wake up in the middle of the night and not be able to fall back asleep for a couple hours. I was not the happy, healthy, energetic wife and mom that I needed to be for my family. Exercise–I wasn't doing much of that either because I didn't have the energy to do it! I was looking for a convenient and cost effective way to feel better.
Nutritional Cleansing is what has allowed me to release 16 pounds of fat in those first months without exercising, gain more energy than I could have ever imagined, sleep like a rock EVERY night, get rid of the digestion issues I once had (no gluten or dairy allergies for me), and feel so much healthier at 38 than I did back in my 20's. Over the past two years I started exercising and have put on about 8 pounds of lean muscle. I'll be 41 in a couple weeks, and I am in better shape now than when I was 20!
You might be wondering what nutritional cleansing is….and NO it isn't a colon cleanse! Nutritional cleansing is a cellular cleanse (whole body) by putting the perfect nutrition into our bodies. Unfortunately, most of the foods we eat (even organic) are nutrient deficient. Our bodies need 90 nutrients (building blocks) on a daily basis, with 60 of them being minerals. Most people are deficient in many of these nutrients…mostly minerals. One of the reasons we are deficient in minerals is because of the introduction of pesticides in our soils. The pesticides not only kill the bad bugs on the plants, but also the ecosystem in the soils that the plants are grown in. If the ecosystem is killed off in the soil, then the minerals are no longer in the soils for the plants to uptake. If the plants are not able to uptake the minerals, then we aren't getting the minerals when we eat the plants.
Back in 1997 UCLA did a study on women who reported being anemic, yet ate a salad each day primarily from spinach. We all know that spinach is high in iron, and therefore these women should not have been anemic. UCLA compared a sample of spinach they had from 1953 to a sample from 1997. The findings were astounding! A whopping 43 bowls of spinach in 1997 = 1 bowl of spinach in 1953. That 43:1 ratio is the same for ALL the other 59 minerals we need on a daily basis. And…when you don't have your minerals, even your vitamins can't be used by the body! All this information made me realize that I wasn't getting all the nutrients I needed on a daily basis.
The other part to this perfect nutrition is that it helps rid the body of the junk that builds up in our cells. Our bodies are exposed to so many toxins on a daily basis…from the air we breathe, personal care products we use, and so much more. These toxins build up in our cells and basically junk up our body. Our bodies actually put on fat to protect us from the toxins we are exposed to. When we get rid of the impurities in our cells, our body no longer has a need for the fat.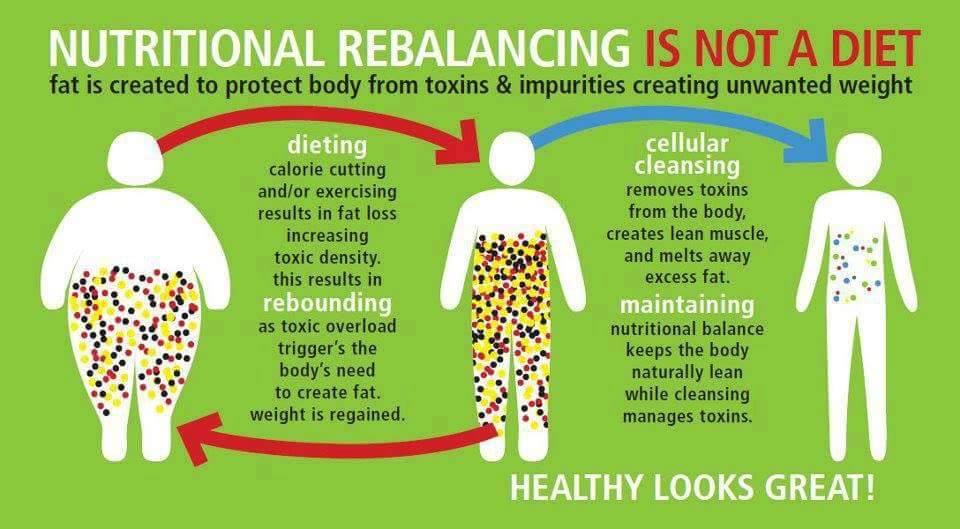 Other "side effects" of nutritional cleansing (getting rid of the junk) besides weight loss are:
Lose Nasty Cravings
Improved Sleep
Increased Lean Muscle
Healthy Aging
Improved Digestion
Better Athletic Performance
And so much more!
By incorporating nutritional cleansing into my lifestyle, my body is now getting all 90 nutrients it needs on a daily basis. This also goes for the rest of the family because these products are great for them also! Our family also has saved so much money on our overall grocery bill!
Was I skeptical in the beginning? Absolutely I was skeptical, but these products come with a 30-day money back guarantee. I had nothing to lose but those unwanted pounds and my intense carbohydrate cravings! Of course I didn't need to use that money back offer, because I truly felt amazing after my first 30 days and will never be without these products in my home!
If you are ready to feel the best you have ever felt, now is the perfect time to get started. The company is offering free shipping up to $25 for new customers (on qualifying orders) through January 17, and it would be my honor to coach you to better health! I'm here to help you succeed and reach your health goals with recipes, a private Facebook support group, accountability, and much more! Take a peek at this 6 minute Video called "Are You Toxic?" Find me on Facebook at Leanne Selle; private message me, and I can add you to our private Facebook group for you to do some more homework for yourself! We have 2 different 30-day health challenges starting this month. The first one started January 4 and the second one starts January 18. Join me for both of them! Let's make 2016 our healthiest year together!
God's blessings on your 2016!
Leanne Selle
Health & Wellness Coach
(920)470-4814
leaneselle@gmail.com