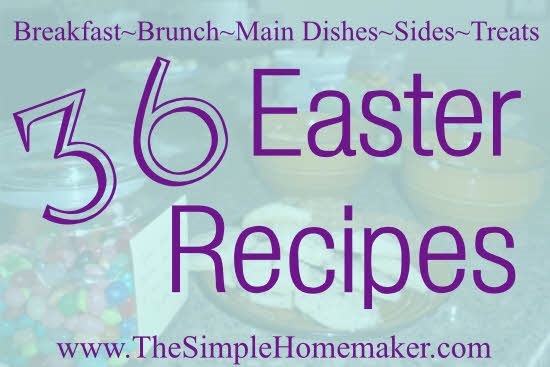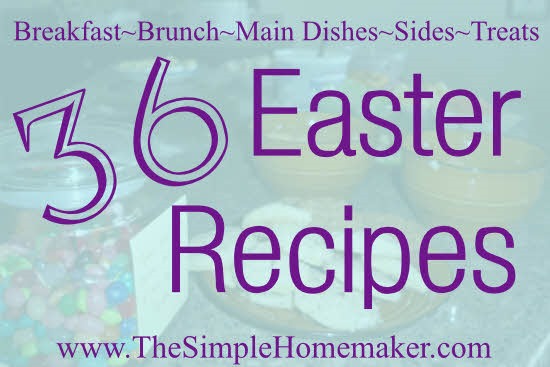 I love food. I can't help it. When a holiday approaches, my first thought is "Bring on the grub!"
Easter is just around the corner, and my "What are we going to eat?" musings have led me to create this list of Easter edibles from around the web. You can plan your own menu by selecting an item or two from each category, and, voila, your work is done…except for the shopping, cooking, and cleaning up. If you really want to know, the asterisked items are on our menu if we have access to an oven on our travels.
Enjoy!
Breakfast or Brunch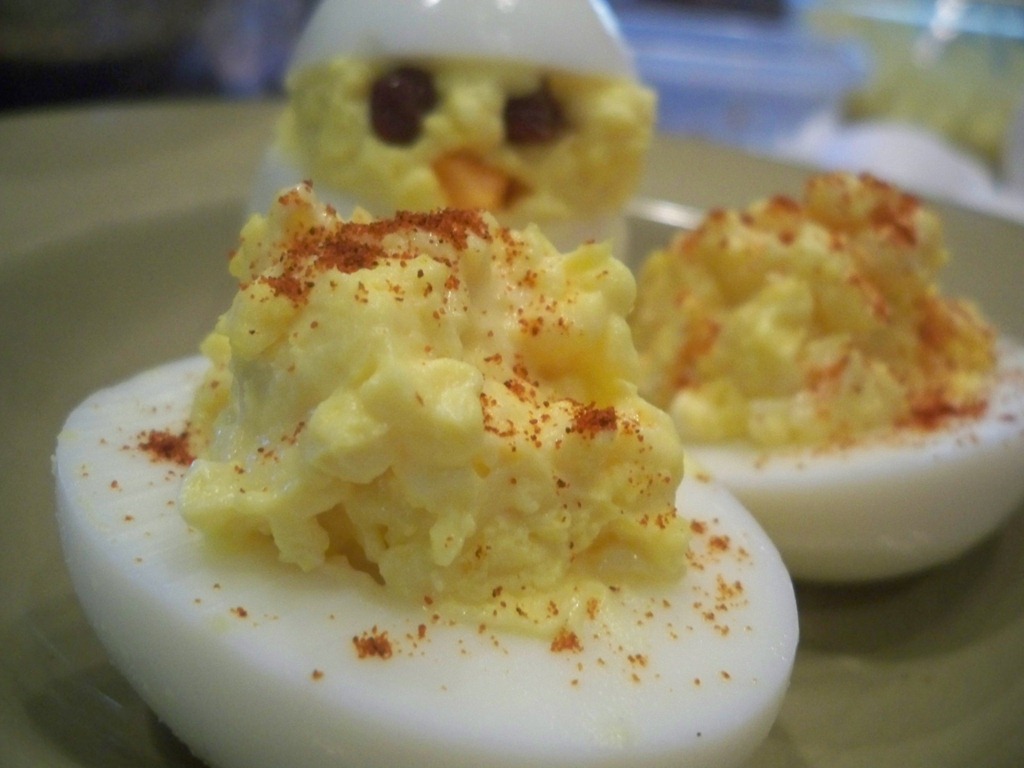 Baby Frittatas: Aw, little babies. So cute in their muffin tins. Make ahead and reheat in the morning.
Breakfast Easter Baskets: Two things here: cuteness and bacon. My kids would love this, and I would accidentally make way too much bacon. Yum, bacon.
**Deviled Eggs and Stuffed Chicks: An adorable addition to the Easter buffet, or a quick breakfast before heading off to church or the egg hunt.
Chocolate Bunny Oatmeal: I don't have a link for this recipe; I don't even know how this idea leaped into my head. Still, it's borderline genius if you have an eight-year-old boy, which I do, thank you God and hubby. Make oatmeal in the crockpot so it's ready when you wake up. Spoon it out into bowls and put a small-ish chocolate bunny in the center of each bowl. As it melts, your children will have chocolate oatmeal. Genius…or is that too much like a cute little bunny in a pit of hot lava death? Whether it's brilliant or psychotic, it's a unique way to start Easter morning with a blast of sugar. Woo hoo!
**Resurrection Rolls: This starts Easter morning off with sugar and the empty tomb. It's a cute way to help little ones remember the significance of Easter. We're doing this mid-week, since Easter morning is busy busy busy.
Easter Overnight Breakfast Casserole: There are about as many recipes for make-ahead breakfast casserole as there are mamas who want just five more minutes in bed on holidays. I chose this one because it's a 20-year-old recipe from church ladies–face it, church ladies make the best casseroles. Period. Adjust it by swapping meats, changing breads, adding more veggies–the kids will be too bleary-eyed to pick them out.
Easter Main Course
How to Cook a Simple Ham: This is our favorite way to prepare a simple ham. Sometimes simple is best. We set ours out on the buffet line, but it would do great at a sit-down dinner as well.
**Roast Pork Loin with Herb Stuffing: This looks so fantastic, I'm going to cry. Why does good food make me want to cry? Get help, Woman! I would totally simplify this recipe for the sake of my budget and my simple philosophy, but I can't imagine how you could destroy the goodness unless you totally lit the whole kitchen on fire, in which case, I'd eat it anyway.
Garlic-Herb Roast Leg of Lamb: Still cryin' here, People. Lamb sounds complicated and expensive, but this recipe from All You is simple and will run you under $4 per person. (That's a lot of money in my book, but my book involves feeding nine people every day.)
Herb-Stuffed Roasted Cornish Game Hens: My kids love it when they get to eat their own bird without sharing! Look for a sale, and you're set. You could also halve them, but that's not quite as much fun as eating a whole hen.
Garlic-Herb Roasted Chicken: Here's a cheaper alternative to most of the above. You can usually find a bird for under a buck a pound, or very near. Until I get my "I didn't know chicken could be this good" recipe posted, I'll direct you to this one. It looks good…but I've never made it, since mine is so juicy. Please remember to brine your bird first. 
Easter Sides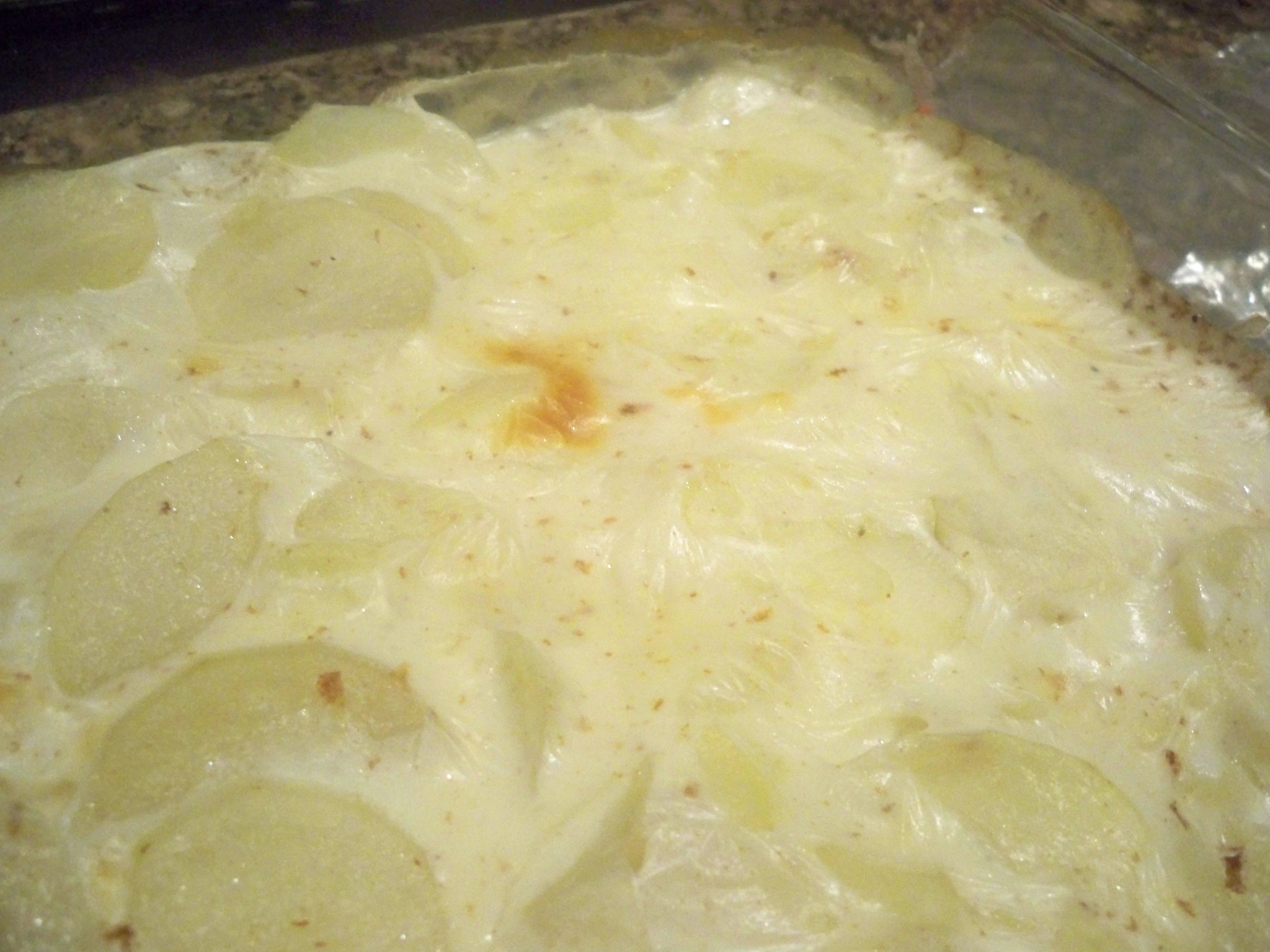 Starches:
**Pioneer Woman's Creamy Mashed Potatoes: What's not to love about cream cheese and cream with a little tater thrown in? Yes, please! Prep your potatoes ahead of time and keep them from turning brown with my simple method.
Crockpot Wild Rice Pilaf: If you have sacrilegious people in your family who don't particularly care for the amazing goodness of mashed potatoes (such as my eldest and hubby), here's a crockpot rice dish that whips up quickly. Optionally, leave out the dried cherries and nuts to take the cost and effort down.
Easy Scalloped Potatoes: Easy. Yummy. Replace the milk with stock if you or your guests are dairy intolerant.
Cheesy Sausage Potatoes: Click the link and scroll down for a cheesy sausage crockpot recipe from my friend Stacy who will never steer anyone wrong with potatoes, cheese, and crockpots. Crockpot cooking frees you up for other things, like nibbling the ears off the chocolate bunnies while the kids are hunting for eggs. Wait…what? I didn't say that.
Warm Veggie Sides:
**Zucchini Fettuccine with Rosemary Butternut Creme Sauce: This side dish looks amazing! It's perfect for the gluten-free, dairy-free, nut-free, soy-free, potato-free, etc-free crowd at your table.
**Roasted Cauliflower with Lemon and Garlic: Roasting any veggie is ridiculously simple and the taste is remarkable. My kids and even my husband will eat anything roasted (except that Lego dude–sorry about that, Kids). Swap out the cauliflower for absolutely any veggie–we're using butternut squash and carrots on Easter, but our faves are cabbage, broccoli, and Brussels sprouts–crazy, I know!
**Sauteed Green Beans: Super simple, this is a weekly go-to for our family.
**Holiday Peas: This is ridiculously simple and tasty. My Mom did this with Ritz,  browned butter, and broccoli and we kids never left a veggie on our plates. Use the veggies and crackers of your choice, even gluten-free.
Grilled Asparagus Wraps: Get the hubby involved in the cooking with these grilled asparagus wraps. They look really nifty. (Who says nifty? I do!) I know that hubby-doing-the-grilling remark may be considered sexist, but let's face the facts–I blow up grills and singe all the hair off my arms, my man doesn't. I birth babies and make milk, my man doesn't. We all have our gifts–I'm cool with that. Gender differences are nifty. By the way, you could also throw these in the oven or replace with green bean bacon bundles.
Chilled Sides:
Deviled Eggs Pasta Salad: This is a brilliant and simple make-ahead alternative to deviled eggs. Noodles. I love noodles.
Spring Vegetable Salad: This is a great cold dish for the allergic crowd, although it does contain mayo which commonly has eggs and soy. You could swap it out for yogurt, or, hey, leave it out. It's a good buffet dish.
Easy Coleslaw: If you're hosting a simple buffet, try a simple make-ahead coleslaw.
Strawberry Salad with Poppy Seed Dressing: This is a simple, fast make-ahead dish. My family would love this without the sugar, so don't feel you need to use it…or at least all of it.
Bread-like food:
Easter Bunny Bread Recipe: Cuteness abounds with this bunny bread. If you don't want to use frozen bread dough, you could try my popular super simple bread recipe or the bread of your choice.
Pineapple Stuffing: This is totally a dessert disguised as a healthy side dish, but if you ate the chocolate bunny oatmeal for breakfast, you probably don't really care.
Simple Biscuits: Every occasion is an excuse to make biscuits. It's Monday–biscuit time! It's 2:00–biscuit time! I stubbed my toe–yes! Biscuit time!
Find your own yummy veggies here:
Simple Ways to Spruce Up Veggies: This is my all-time favorite Pinterest board and I have no idea why. If you need some simple but delicious vegetable side dishes for your Easter buffet or dinner table, or for any day of the week to make your family happier and healthier at the same time, check this out. Seriously good stuff on here–we eat many of them, especially the Brussels sprouts. You heard me.
Easter Treats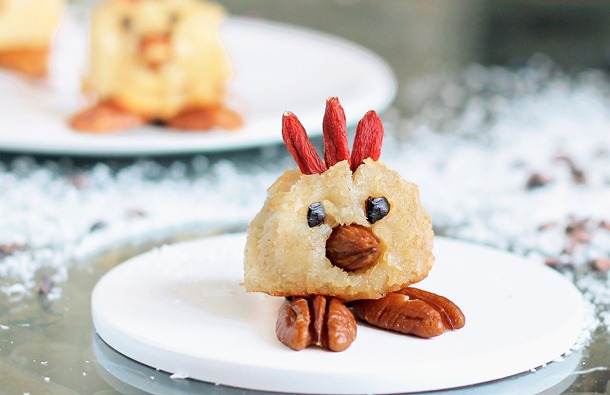 **Key Lime Pie: This has nothing to do with Easter at all. I can't even remotely make a connection except God created key limes. Still, I'm going with it, because it's what we're having. There are two recipes to click on. We're using the first one as opposed to the "lightened key lime pie," because the words "lightened" and "pie" do not belong in the same conversation.
Chocolate Peanut Butter Eggs: These "eggs" from my friend Stacy at Stacy Makes Cents are so good you'll want to slap your mama! I can't comprehend that expression, but at the writing of this we're in the south, and Stacy's a southerner, so, I borrowed that bit of southern love from her. You're safe, though, Mom. I won't be slapping any mamas…except maybe myself for eating way too many of these babies! If you feed your family only one thing at Easter this year, it should be this. That's what I'd pick!
Paleo Chocolate Peanut Butter Eggs: These will cost more than Stacy's eggs, but they are paleo and other-diet-friendly. If you have some alternative eaters joining you, or if you are one yourself, give these a go. Drool!
Dessert Fruit Pizza: It's a cookie and it's fruit. I mean, a cookie…and fruit! Are we on the same page here? I've never tried this, but…it's a cookie! It's only Easter-y because it's shaped like an egg, but, seriously, why is a ham Easter-y? It's a dead pig shaped like…a butt cheek, when you think about it.
Coconut Cookie Chicks: A super cute dessert idea for the vegan or gluten-free crowd from Chocolate-Covered Katie who can do no wrong in the kitchen. (See the picture above, posted with permission.) Mine would never make it to the bird stage. I would eat the macaroons alone, and then drown my sorrows for having no macaroons left by eating the rest of the ingredients.
Easter Bird's Nest Cookies: Just the word "cookie" should sell you on these.
Easter Kit Kat Cake: If you eat this, you will die. Before you die, however, you will hear oodles of "That's too cute!" and "How did you do that?" and "Holy shmoly, are those Kit Kats?!" Shmoly isn't really holy, just so you know.
Peeps Sunflower Cake: I told myself in my most authoritative voice not to post any recipes with peeps in them. Apparently self has issues with authority.
Lemon Chiffon Easter Cake: This dessert is a little–okay, a lot–more grown up than the other desserts, which means you probably shouldn't grab a piece with your hands and shove it in your mouth and stick a second piece in your pocket for later and put a third piece on your plate when people are looking. Don't be afraid of chiffon cakes. They're not as hard as people say they are. Of course, I said that about algebra, and now my firstborn has trust issues.
Some Totally Brilliant Easter Recipes: My daughter's link-up to her favorite Easter treats.
Happy eating, and most importantly, have a blessed and meaningful Easter!
What's on your Easter menu?