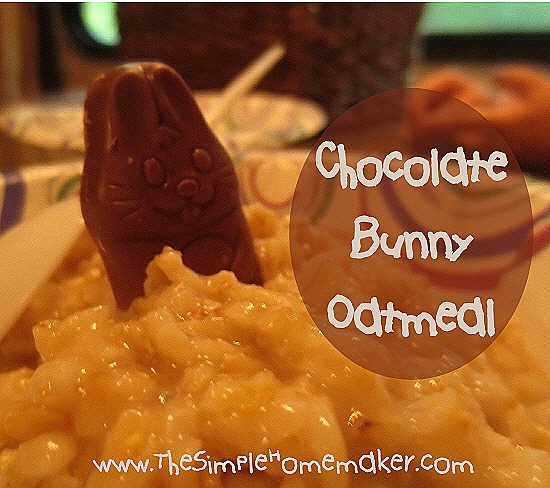 There are many ways to celebrate Easter with food, and many of them point directly to the Resurrection, such as this Jelly Bean Gospel or these Resurrection Rolls or these Resurrection Cookies. Chocolate Bunny Oatmeal has nothing to do with anything. It's just plain fun. That happy, oblivious little bunny has no idea what's about to transpire.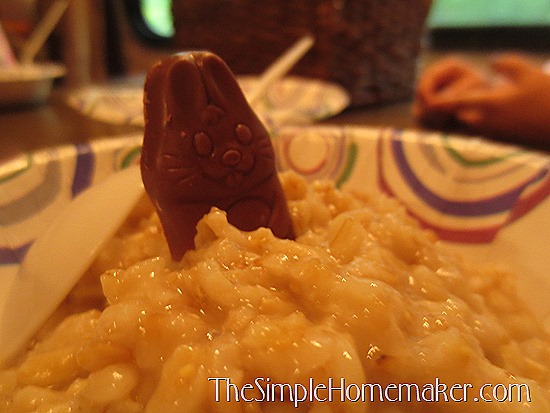 Serve up bowls of piping hot oatmeal and stick a chocolate bunny smack dab in the center.
As the bunny melts in the hot lava death hot cereal, it will transform the oatmeal into chocolaty goodness!
That's all there is to it!
Tips:
 To help the bunny stand up and create a better effect, make thicker oatmeal by using less liquid than usual.
 The oatmeal must be served hot.
 Don't add milk or coconut cream or whatever you add until the bunny has worked its little bunny magic.
 Adjust the chocolaty goodness by using a larger or smaller rabbit.

 The teeny tiny one-bite bunnies are really too small, so have chocolate chips on hand to add some yum.

 Solid rabbits are not going to melt as quickly or completely as hollow bunnies, unless they are small. We used small solids (7/$1) and they melted fine.

 Make this after Easter when the bunnies are being unloaded cheap.

 Don't serve this on a morning when your kids will be expected to sit still and quiet for an hour. Ahem.
 This works great for a no-life-lesson breakfast around Christmas, too. Stick a Santa in it.
You know this idea is going to nag you until you try it, so just give in!
Come back here and let us know how it turned out!