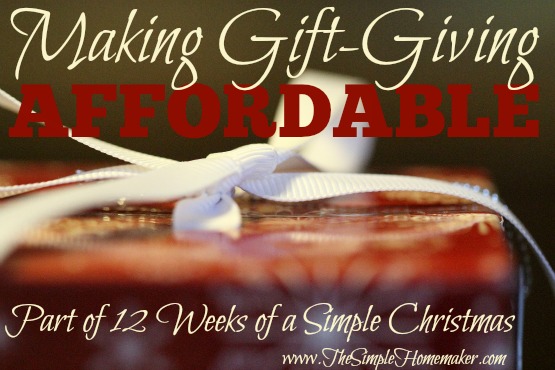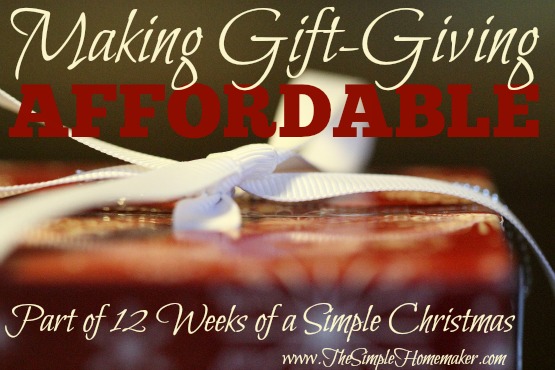 In Twelve Weeks of a Simple Christmas we are talking about gift giving this week. Mission three is planning your gifts. Are you overwhelmed and a little sad when you look at your list? Me, too.
I'd love to give Hannah a horse for Christmas. That would be aaaamaaaaaazzzzing! How about giving my gearhead nephew a truck–super awesome! I'd be the best aunt ever! How about a new washer and dryer for my mom, since hers are deader than Jacob Marley. But…I can't.
So here's what I do instead to make Christmas affordable and still magical.
We emphasize that Jesus really is the reason for the season. Presents are super fun, and no kid is going to say, "Hooray! No gifts this year!" Focusing on Christ, however, adds an element of profound joy and "magic" to the entire season that no present can top.
I go stocking crazy all year. My kids love their stockings. With the exception of the kitten we got them, their stockings are their favorite part of Christmas morning. I don't spend a ton, but I tailor it to them and break too many of the family sweets rules. Wink. I gather throughout the year and wrap it all individually to make it last longer.
Instead of buying them fish, I teach them to fish. There's no room in the budget for a horse for Hannah; how about a horse care kit, riding lessons, and/or the book Better Than a Lemonade Stand–Small Business Ideas for Kids or How to Start a Micro-Business for Teens (affiliate links) instead, so she can earn her own horse!
Go in on a gift. We can't afford a new washer and dryer for Mom, but what about calling all the kids and seeing if there's enough interest to pool money to get her one? That's how she got her Kitchen Aid stand mixer and her dishwasher, and that's how Grandma got a new TV.
Go used. I have a problem with people who have a problem with receiving a used gift. Seriously, I do. If I can find Better Than a Lemonade Stand used but "like new," I've saved and the gift is still "shiny." I can often buy two or three used books for the price of one newbie–the guts are the same, even if the cover has a crinkle. (More on used gifts here.)
Make it myself…or don't make it myself. Adding up the cost in both time and money, sometimes it costs more to make a gift than to buy it. If, however, my family makes gifts together–oh, what a joy!
I love experience gifts, and they do not have to be expensive. I have a precious friend who made an incredible tea-time binder for her daughter, complete with monthly activities for them to do together. Those are year-long memories that money can never replace. How about scheduling a year's worth of picnics or lunch dates with Grandma?
I frequently cross category lines in my budget. If I can fill stockings with things I have to buy my kids anyway–toothbrushes, fingernail clippers, socks, undies, food–the money is legitimately available from another category. Some of my older kids say they're on to me, and that toothbrushes and undies don't fly anymore. They also said I am no longer allowed to give them schoolbooks for Christmas–humbugs. Still, if it's educational, I can budget some of the homeschool money into that category to cover it, as long as I'll still be okay down the line. I can also dip into the clothing budget for that stellar hat for my hat-crazy daughter. Serious budgeters are passing out right now. Sorry.

I try to keep Christmas clutter-free by buying less, but buying smarter. We don't play eenie-meenie in the toy aisle or at Bed, Bath, and Beyond. We try to give thoughtfully…or edibly. To quote my then-15-year-old, Elisabeth, "If it isn't useful or edible, I don't want to find a place to put it." Elisabeth does not want clutter. Period. To quote my son, Elijah, "I love Legos." Elijah would enjoy a single set of Legos far more than half a dozen other gifts randomly selected from Toys R Us. Perhaps you've heard of the three gift Christmas, or this diddy: something you want, something you need, something to wear, something to read. Of course, my kids would say they want, need, and can read books, and surely they could figure out a way to wear them.
For specific gift ideas that qualify under my simple and frugal principles, check out these two posts:
This book by my friend Stacy will give you a few (as on 100) affordable ideas as well:
What are your tips for keeping Christmas affordable?
Photo credit (text mine)