ARTistic Pursuits Inc. sent us a free copy of their ARTistic Pursuits High School Book One art curriculum in exchange for a fair review by me (the artistically disinclined), 17-year-old Marissa (who is beginning her art business), and our 15- and 13-year-old "twins," Elisabeth and Emily (both more artistically talented than their mother). All opinions are ours…'kay? 'Kay.
16 units
1 year
2 lessons per week
1(ish) hour per lesson
Was that brief enough for you?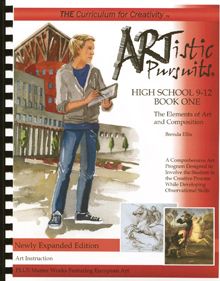 A slightly less brief discussion on what each unit entails:
Building a Visual Vocabulary: In plain English, the students will learn to "see" the unit's main focus artistically out in the real world. My artistic daughter Marissa sees the world differently than I (the word girl) do. It's fascinating to listen to her explain what she sees. It's an entirely different way of viewing the world. This first lesson in each unit teaches your students to see like an artist…but only one topic at a time, so it's manageable.
Art Appreciation and Art History: Here the student is still observing based on the unit's topic, but this time they are studying the work of the masters. Ooooo…masters. This is a technique we've used in the past with our kids–always effective.
Techniques: Time to get busy busy busy. The students learn applied techniques. Fun!
Application: This is like the final exam, like the doctoral thesis, like the…well, like the project at the end of the unit.
Each of the four steps above includes an assignment which should take roughly an hour for your student to complete. (You can join in or fold laundry–your choice.)
Thoughts for the artistically inclined:
Marissa explained that the course has quite a few topics that she already knows instinctively, having flown from the womb with innate artistic ability that she did not inherit from the owner of said womb. She said that it offers lessons that fill in some of the gaps, explaining why and how best to do what she inherently does.
Thoughts for the artistically disinclined:
Parents who can't even draw stick figures, rest easy. You don't need to know anything (except how to drive so you can get to the store and buy art supplies). The book is written for the student. The time is the student's. You don't need to do or know anything.
That said, it's a whole lot more fun if you do the program with your children.
Regarding the necessary supplies, we had everything on hand. We are an art family, however, so that may not be the norm for everyone. Still, there's nothing you have to send a rover to Mars for.
Thoughts for…well…anyone:
A daughter's opinion: One of my daughters said, "I like that the student samples are not perfect. It makes me feel like, hey, I can do that. I can even do better than that!"
A teaching mama's opinion: I really like that the program is teaching them to draw realistically. Other programs we've tried taught shape and color and lines, and the end result was fun, whimsical, and fake. That's great, too but I have always wanted to be able to draw, say, a turtle, and have someone say, "Wow! Look at that turtle!" or even just, "It's a turtle," instead of "Nice rock. Why's it green?"
I also like the attention paid to the masters. There's a reason they're the masters, and it's not the whole cutting off the ear thing.
Thoughts on the timing: My children have found the two-projects a week time frame to be unrealistic for them. I would estimate they spend between two and four hours on each of their drawings. (Now, mind you, I have those children who, at the end of a Sunday school or vacation Bible school session are still there working on their art projects…forever!) They would prefer to spend the week on one assignment instead of two, so they can really work on it without it taking up as much of their time as it does with two sessions per week.
On the other hand, two of Marissa's art mentors encouraged her to "speed up" the process, and do a little more free sketching with less perfectionism. The two-projects-a-week pace might encourage more decisiveness and less perfectionism with the "twins."
Musings on the approach: This is a different approach to art than some of the other programs we've tried. It's less how-to and more integrative. What does integrative mean, really? In this case, it means you develop certain skills which you then apply to art. You're not going to walk away from these lessons knowing how to draw a sleeping cat and nothing else. One of my daughters enjoys this; the other just wants the how-to.
If you want realistic drawing lessons with history and analysis tied in, this is a great curriculum. Plus, ARTistic Pursuits Inc. has a line from preschool through high school/adult, so if it works for you, you're set! I love being set.
Additional thoughts for my fellow roadschoolers:
If you want to do art on the road, you have to be totally committed, because it potentially takes up a lot of space. Space, as you know, is prime real estate in the RVing world. So if you really want your kids to learn to see and draw some of the places you are exploring and people you are meeting (which I highly encourage), and you want to commit to it, take note of this:
The tools you need for this curriculum are not ridiculously extravagant. With the exception of the sketch pad, you could keep everything else in a pencil pouch that you can hook right into a binder or stuff under a pillow–don't your kids stuff art supplies under their pillows? The sketch pads and the book itself will be your space hogs.
And of course, the book has lay-flat plastic comb binding, which is ideal for the curriculum. Still, comb binding and trailer living are not friends. Someone inevitably leaves the book on the floor of the van and it gets stepped on or the cat knocks it off the bureau (dresser for those of you born in this century) or it gets crammed unceremoniously into the too-small-for-homeschoolers cupboard–in other words, trailer living is abusive to books. That said, this has held up very well so far.
If you do this program, you have to bite the bullet and buy each artist a sketch pad. This will prevent the attack of the paper monster, because everything will be neatly enclosed in a sketch pad. Ah, neatness–how I love thee!
Do I recommend this program for roadschoolers–absolutely yes, if you are committed to getting the supplies. It can really add to your children's journals of their travels. It's worth the space.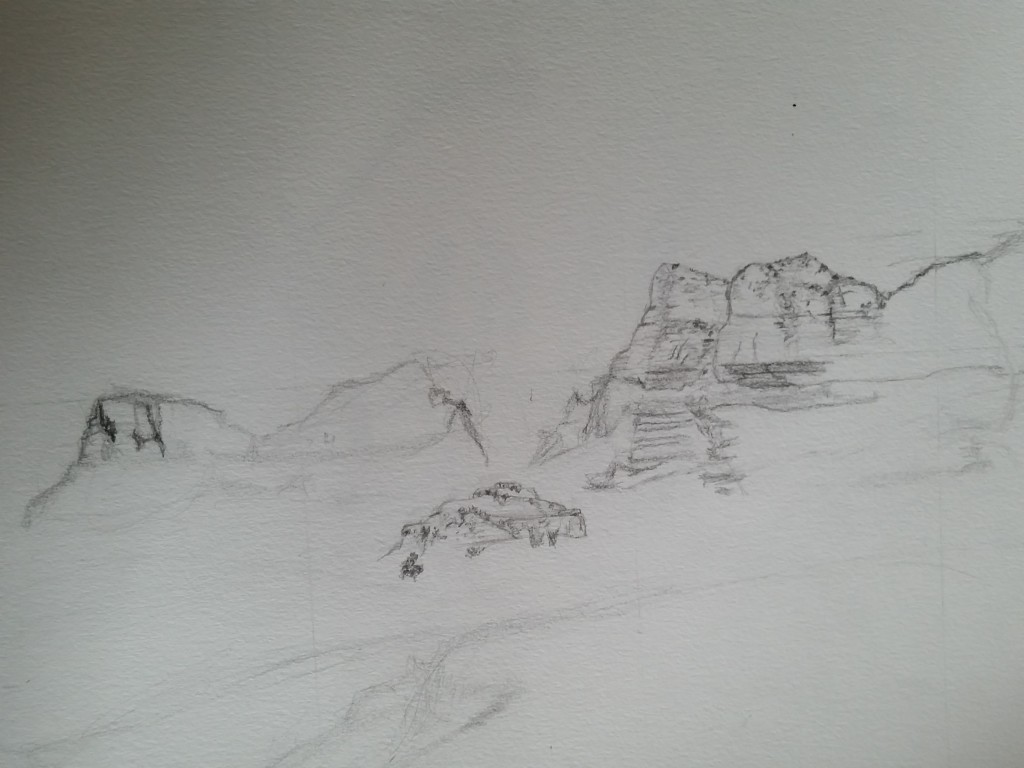 Click here or on the banner below to read reviews from other homeschoolers: