Autumn is here at last!
If you are a desert dweller like me, you've likely been counting down the days since last February.  If you live back in my homeland where the winters are a bit less . . . hospitable, perhaps you are not quite as excited about the cooler temperatures hinting of winter's approach.
Whether you love fall or you are clinging to the remnants of summer in vain denial, you can make autumn fun for your family.  You can start the fun this weekend with these easy-as-pumpkin-pie, last-minute family harvest party ideas.
Parties can be simple and stress-free, especially when you keep them small.  This harvest party is easy, fun, and affordable.
Simple Harvest Party Ideas
Harvest Party Décor Ideas:
Decorations can double as activities and, later, dinner.  Let each child choose a pumpkin from a local farm, produce section, or from your own garden.  Throw a few pie pumpkins and some squash into the mix.  Huddle them around the fireplace or place them strategically throughout the house.
Fill a bowl with green and red apples or green and red pears.  Not only are they naturally beautiful, but edible décor is always a frugal bonus.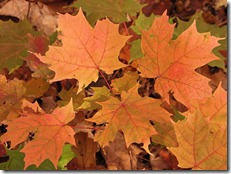 Collect fallen leaves and pine cones and place them in a basket or along the mantel or center of the table.  If you wish to scent them, place them in a plastic bag with a few drops of essential oils (may I recommend cinnamon) and chill for a few days…or hours if that's what you have  to work with.
Harvest Party Craft Ideas:
Decorate the decorations.  Cover a table (and possibly the floor and walls) with newspaper, set out some paints, and cover your littles and smaller middles with old shirts.  Let everyone in the family get creative with their squashy friends.  Add old hats, googly eyes, or whatever else creativity demands.  Most importantly, join in!  (Later in the season, the squash and pie pumpkins can be eaten (unless somebody named them—you cannot eat named food), and the pumpkins can be carved out and the seeds roasted and eaten.)
Make a memory. Set out construction paper or craft foam.  Trace and cut out the handprints of everyone present.  Paint them to look like autumn leaves.  Date the backs.  When they are dry, consider covering them with contact paper and set them out around the table centerpiece or hang on a window.  If you make this an annual tradition, you can pull out the handprints each year and see how everyone has grown.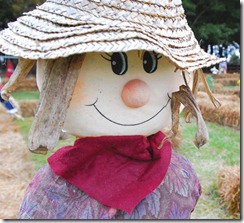 Make a scarecrow together. Use an old pillow case for the head and old clothes for the rest of the body. Stuff it with newspaper or straw. Attach it to a pole, tie it to a tree, or invite the guest to sit on a bench beside your front door. Consider giving your greeter a friendly sign to hold, such as "Welcome!" or "If you come bearing cookies, please ring bell."
For more harvest party craft ideas, check out these quick and easy crafts.
Harvest Party Activity Ideas:
Take a family leaf walk.  Find a place with a lot of leaves and jump, crunch, and cover each other with leaves.  If it's your own back yard, rake 'em up and jump in!  Come on—you know you want to.  Bring the prettiest leaves and pine cones home and let your children decorate the house with them.
Feed the birds.  Roll some pinecones or bagels in peanut butter.  Then roll them in bird seed or in sunflower seeds from your pantry.  Hang them on the trees outside for the birds.
Take a family photo.  Have everyone come to the party dressed in fall colors.  Set the timer on a camera and take a family photo.  Make sure to get some goofy ones, too.  If the littles (or bigs) don't cooperate, don't worry.  It's all part of the memory.
Harvest Party Food Ideas:
Just the word "autumn" turns on the soup cravings.  If you have time, consider making bread bowls to serve your soup, or keep it simple and use your own bowls with a side of crusty bread and a sprinkle of cheese.
Nothing says PARTY like a buffet.  Keep it simple with a veggie tray and dip, pear and apple slices, your harvest dessert of choice, a nut or popcorn snack mix, cheese slices, a few jolly relishes, buns, and pulled BBQ that your crockpot slaved over all day long.  Simple, substantial, and, hey, buffets are fun!
Would it be too obvious to mention pumpkin desserts? While pumpkin pie is an indulgence typically reserved for Thanksgiving, nothing is stopping you from making pumpkin tarts, pumpkin ice cream pie, or pumpkin cheesecake. For a little less effort, make pumpkin muffins or leaf-shaped sugar cookies and let your pastry chefs decorate them as one of the party activities.  Want super simple?  Slice some apples and drizzle caramel sauce over the top.  Mmmmmmm.
There is nothing that says fun has to be complicated.  Choose a few of the above activities or come up with your own simple, affordable harvest party ideas and make fall fun and memorable for the entire family.
What are your favorite harvest party ideas?
This fall harvest party post is linked up to: